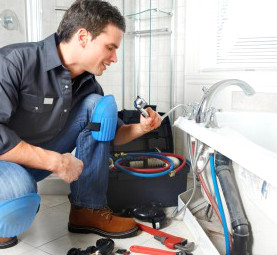 If you search for the best bathroom fitting services in Battersea SW11 you can count on our respected and experienced company without any hesitation. Despite being relatively smaller in size, bathroom can cause lots of issues when it comes to renovating and making it both – nice looking and functional.
If you want impeccable results and efficiency, don't hesitate to contact us and ask for our bathroom fitting service, available seven days a week in Battersea SW11. What makes us so different from the other companies is that we would never tolerate poor performance. All our fitters are certified and experienced. They are always prepared to give you a hand and finish the bathroom fitting project sooner than you have expected. It has never been easier to get your dream bathroom without spending a fortune.

Get a Free Quote Now!
Reliable Bathroom Fitting Assistants Battersea SW11
Entrusting a team of professional fitters who have proven their dexterity during the years is the best way to avoid potential damages and issues with your newly installed bath. Arranging us for your project means that you will be absolutely satisfied with both – the final result and the proactive approach of the fitters during the procedure.
Our company provides several variations of bathroom fitting projects:
Complete bathroom remodelling
Tub to shower conversion
Shower remodelling
Before the start of the bathroom fitting project you will be provided with detailed information about the expenses and the time the completion of the bathroom fitting project will take. You will also be given a recommendation about the most appropriate kind of materials.
We can basically create a nice looking bathroom from scratch. Those who have called us with the question if we are providing bathroom fitting projects "on a budget" are hundreds and luckily we disappointed none of them.
The problem with the lack of space is such a pain for many house owners. If you are willing to have a great looking, convenient bathroom and save space at the same time, get in touch with as as soon as possible.
No matter if you want to make your bathroom look like a luxurious spa centre or you want to opt for a more classic design, you can unconditionally rely on our professional touch.
Contact us now and ask for availability in your area. We cover all parts of Greater London, including the area of Battersea SW11. Our call centre supporters will be glad to lead you through the short booking procedure and answer all your questions in a friendly manner.