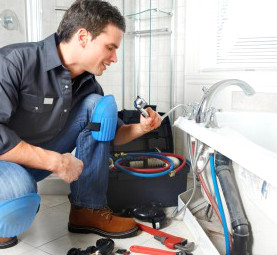 If you search for the best bathroom fitting services in Norbury SW16 you can count on our respected and experienced company without any hesitation. If you are wondering how to makeover your bathroom without spending a fortune, you should take our offer under serious consideration. First of all, you will have to understand what makes one bathroom great. The perfect bathroom must have all the amenities needed to provide maximum comfort.
All the systems, which are left unseen, have to be installed properly to ensure a long secure exploitation. The bathroom should also have a space saving layout which also pleases the eye and rests the mind. Considering the above listed, you will agree with us that professional services are all you need. Professional not always means expensive, so go trough our offer without any prejudices. Our company offers affordable bathroom fitting in Norbury SW16.

Get a Free Quote Now!
Affordable Bathroom Fitting Norbury SW16
Most of our clients admit that first they were reserved toward our services. But once they have seen the results, they couldn't believe that for that price, they have received a bathroom that looks like the ones seen only in the magazines. The combination of background experience, professional equipment and specialised fitters helped us to synthesise a service which optimises the quality and minimises the cost. That is why our clients always stick with us and every day we add more customers to our record. We believe that every venue should have a great bathroom and that motivates all of our efforts to offer you excellent bathroom fitting at affordable prices.
For a reasonable amount of money, you will receive:
plumbing and drain system montage
electricity and lighting installation
mounting of bathroom amenities
design ideas and layout advices
adequate support
We can start the bathroom fitting as soon as you have made a service arrangement. Our fitters work even during the weekend, so you can have your new bathroom in matter of days. Inside our team, we have licensed plumbers and electricians that will make all the complicated installations needed to accommodate the bathroom of your dreams. When you have picked your shower, bathtub, sink, mirror and all the other amenities, we will securely install them so you can use them with pleasure.
We are a company based in London and we offer the most affordable bathroom fitting in Norbury SW16. Don't be afraid to use our services, if you want to make a great bathroom transformation without spending all of your savings. Give us a call whenever you need our bathroom fitting help.