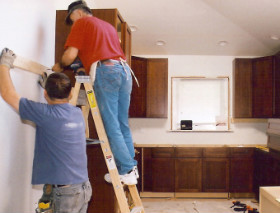 PTMaintenance provides kitchen fitting services in Arkley, NW7. Our experienced kitchen fitters will take care of every detail during the installation of your new kitchen.
Are you planning to purchase new furniture and appliances to freshen your kitchen? In this case you're going to need help from our fitters. Our company with headquarters in Arkley NW7 deals with professional kitchen fitting. It is certified and insured. We cover all aspects of kitchen fitting and we promise to make the process worry-free and cost-effective, saving you time for other more important things in your daily life. We are confident we can fit any kitchen, so if you're in need of professional installers, please make sure you get in touch with us so we can talk things over.
Kitchen Fitting Services in Arkley
Our service includes:
Initial discussion and measurements
Fitting of kitchen devices
Additional work
Inspection
Get a Free Quote Now!
Installation of faucets, basins, range hoods, countertops, cabinets, dishwasher, stove, oven and other kitchen units is very tricky and it requires to be left in the hands of our professional fitters who are well trained to do this kind of job. Feel confident that your appliances and fittings will be mounted by professionally-screened installers who will stop at nothing to satisfy your individual requirements.

Professional Kitchen Fitters in Arkley NW7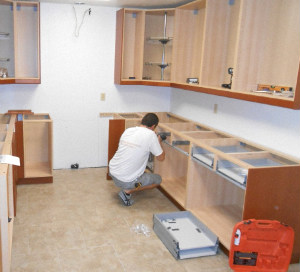 We will have a discussion with you regarding the arrangement of the kitchen units, i.e. where you want us to place each item. Before we actually proceed to installing, we'll have to take measurements. After that we will fit any kitchen appliance and unit you want, from sinks to cabinetry, worktops, drawers, dishwasher, extractor fans and other stuff. We will check if the appliances are in good working order after the fitting. If you're satisfied with the work that has been completed, we will leave your home in Arkley, letting you enjoy your brand-new kitchen.
Our fitters are professionally-screened and well prepared to install kitchens. They are trained and experienced, so you shouldn't worry about the quality of the work that will be done to your kitchen. We use our own gadgets and supplies to get the job done.
How can we be contacted? Use our e-mail if you prefer writing. On the other hand, if you want to book a service straight away, you'd better call us. It's just quicker. Our kitchen fitting service is provided within several districts in London, including Arkley NW7. If you're not sure we serve your residential area, give us a call and we'll let you know if we can help. Don't forget to contact us.