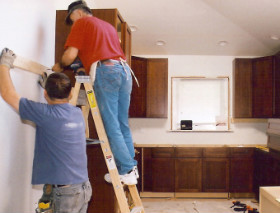 PTMaintenance provides kitchen fitting services in Bromley, BR1. Our experienced kitchen fitters will take care of every detail during the installation of your new kitchen.
There's nothing fancier in a home than a stylish and contemporary kitchen that instantly grabs the attention of everyone who visits of your place. Unfortunately, kitchen appliances and furniture are often the items that suffer the most damage over a couple of years, so many homeowners have a new kitchen suite fitted & installed every few years.
Kitchen Fitting Services in Bromley
If you are planning to renovate your kitchen and you've already selected & purchased a kitchen suite, then it is very likely that you'll need help installing & fitting it. If this is your case, then give us a call because we offer a bespoke kitchen fitting service in Bromley BR1 that will fully satisfy your needs.

Get a Free Quote Now!
Even the best kitchen suite won't work & look as good as it should unless it is properly fitted. You can try doing this job on your own, but it will take way too much time and energy, and it is very likely that you will be disappointed with the final result. Our team on the other hand has years of experience when it comes to kitchen fitting, and they know how to deal with these assignments quickly and professionally.
Professional Kitchen Fitters in Bromley BR1
We have worked with both small, large, cheap, expensive, classic & modern kitchen suites, so we are prepared for any fitting project. Keep in mind that our specialists have been in this business for many years, so they have the required experience and knowledge to quickly and safely complete the kitchen fitting operation in Bromley BR1.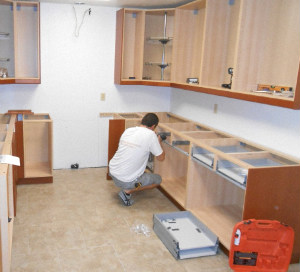 The members of our team won't just fit the appliances & furniture of your kitchen – they'll also take care of any wiring, plumbing & plastering related jobs that need their attention. This means that we'll do the job from A to Z, and you won't have a thing to worry about once we leave your home. Naturally, we'll inspect & test every appliance in order to make sure that everything works correctly. If you are ready to book our professional kitchen fitting service or if you have any questions regarding our offer, please get in touch with our knowledgeable support staff in Bromley.