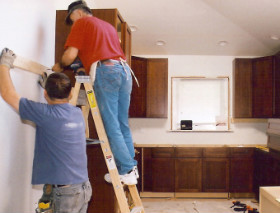 PTMaintenance provides kitchen fitting services in Enfield, EN1. Our experienced kitchen fitters will take care of every detail during the installation of your new kitchen.
How would you like to work with the best kitchen fitters in London? Our services are just a phone call away, and you are probably a few days away from the kitchen you've always dreamed of having. Our professionally-trained and certified kitchen fitters are the best choice in Enfield EN1, London, and we assure you that they are prepared to face any challenge you might throw at them. It doesn't matter if you reside in an apartment, house or a larger residential property, because our employees are prepared to fit all types of kitchen, regardless of their size & location.
Kitchen Fitting Services in Enfield
Get a Free Quote Now!
We have worked on many kitchen fitting projects in London, and so far our results have never been disappointing. In fact, most of our clients described their new kitchens as magnificent and spectacular, so we are confident that there isn't a job that is too difficult or too challenging for our licensed specialists. The best part about our kitchen fitting service in Enfield is that it takes care of every stage of the installation & fitting process.
Professional Kitchen Fitters in Enfield EN1
You won't have to worry about things such as wiring, plumbing & plastering, because we'll take care of that as well! The best part? You won't have to pay extra for the additional services we offer. As you can see, our service is definitely a reasonable choice, especially if you are looking for an A to Z service that won't leave you disappointed in the end.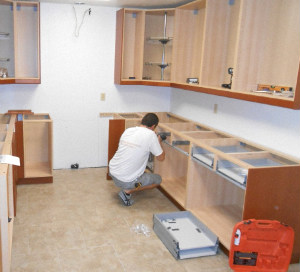 Our prices are quite fair and we are more affordable than most of our competitors in Enfield EN1, London. Our kitchen fitting team is available seven days a week, and they are ready to work on holidays as well, so you can count on our help at any given moment! We know how responsible our job is, so we'll take all necessary measures to make sure that none of your possessions will be damaged during the fitting process. The workers that will work in your kitchen are friendly, knowledgeable and very professional, so you won't be disturbed by them, and you'll have the opportunity to closely follow every part of the fitting process. Call us!