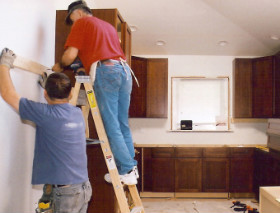 PTMaintenance provides kitchen fitting services in Hampstead, NW3. Our experienced kitchen fitters will take care of every detail during the installation of your new kitchen.
If you are planning a great home improvement this season – start up with the kitchen. Since the room is used for food preparation, family dinners, parties and other activities, the kitchen often tends to loose its outlook and functionality. That is because the kitchen space is not optimised by kitchenware arrangements in correlation of the room dimension and proper appliances installations. If your kitchen was not made by professionals, you can be certain that it won't have a very long exploitation life. Therefore, trust the kitchen makeover to the proven specialists. We are a company which offers professional kitchen fitting in Hampstead NW3.
Kitchen Fitting Services in Hampstead
Make a contract with our kitchen fitting company and you will receive:
Transportation and installation services
Different kitchenware designs
Montage of electricity and plumbing systems
Space improving solutions
Painting and decorating assistance
Get a Free Quote Now!
Remember that professionalism is a symbol of quality. Our company has a solid background experience that can guarantee you perfect kitchen fitting services in Hampstead NW3. We have a well trained team of professional fitters who are ready to overcome every task with great attention and speed. If you need an advice regarding the overall design of your future kitchen, we have experts in that area. They will give you ideas, concepts and ready solutions, if you require their expert advices. Our company has the latest machinery, tools and gear. The combination of professional equipment and skilful operators can guarantee you the most reliable kitchen fitting in London.

Professional Kitchen Fitters in Hampstead NW3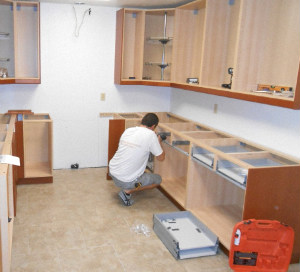 Our company in Hampstead uses only kitchen fitting methods that have proven their results along the years of our professional practice. We work in respect of the general safety requirements, so you can have a kitchen that won't be a threat to your daily life. The montage of electricity and plumbing systems is not a problem for our fitters because they are licensed to execute such services. In order to give you more room for your cooking adventures, we can offer you space improving solutions. Don't worry about the cost of our assistance because we deliver our professional kitchen fitting at premium prices.
Professional kitchen fitting in Hampstead NW3 is what we are offering you. Make a service appointment if you want to take advantage of our services. Our professionalism guarantees qualitative kitchen fitting at premium prices. If you have any questions regarding our work, don't hesitate to give us a call or write us an e-mail.