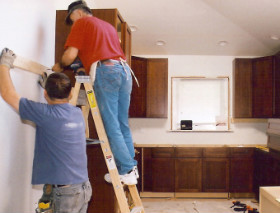 PTMaintenance provides kitchen fitting services in Isle of Dogs, E14. Our experienced kitchen fitters will take care of every detail during the installation of your new kitchen.
The kitchen you have always dreamed of is just a call away. If you rely on our company to do the kitchen fitting you need, you can have a brand new kitchen installed in your home. All the cupboards, worktops, drawers, sinks, taps and electrical appliances will be installed and fitted in the most proper places by our technicians. You can remodel your old kitchen, getting it rid of the furniture and devices, you don't need any more and install new units. You can also create a brand new kitchen in a more conventional or more modern design. Our kitchen fitting services, provided in Isle of Dogs, E14, can offer you all of this.
Kitchen Fitting Services in Isle of Dogs
The professional kitchen fitting, which our company provides, includes:
Removing of existing kitchen electrical appliances and furniture
Installation of electrical kitchen appliances and devices
Fitting cupboards, chest of drawers, worktops and different hardwood kitchen furniture
Fitting of kitchen sinks and taps
Creation and implementation of modern, traditional and a combination of these kitchen designs, of customer's choice
Planning and implementation of the kitchen fitting you need in the most convenient time for each customer
Get a Free Quote Now!
You can use our services to receive the professional kitchen fitting, which you need in your home. You can have your electrical cooking, cooling and washing appliances installed and your furniture fitted in the proper places. Your sink and worktop will be mounted in the desired place. Our kitchen designers will help you create the kitchen style you want. They can create more modern, more conventional, or a combination of these kitchen designs.
Professional Kitchen Fitters in Isle of Dogs E14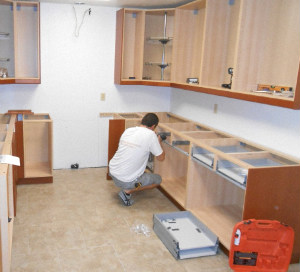 If you want to have your kitchen renovated or want to create a new kitchen in a design of your choice, use our services. The kitchen fittings, which our designers and specialists do in Isle of Dogs, E14 are professional and will serve your needs. Before starting any work, our planning assistants gather the necessary information, considering the kitchen design you need.
If you want to remove your old kitchen electrical appliances or some wooden furniture, we can do this for you. You can have brand new kitchen installation, or renovating of your old kitchen. Our services in Isle of Dogs are flexible and provide the necessary kitchen appliances, furniture, sinks and taps fitted, as each customer expects. Your kitchen appliances will be installed and tested professionally and safely. The furniture you need fitted will be assembled and moved to the most convenient place to be used freely.