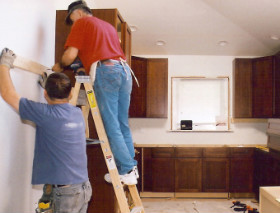 PTMaintenance provides kitchen fitting services in Kingsbury, NW9. Our experienced kitchen fitters will take care of every detail during the installation of your new kitchen.
The kitchen is one of the rooms which has the most serous exploitation. All the appliances needed to prepare and store your food demand a reliable electrical network in order to work properly without causing threat to your household or your life. The plumbing installation is also import because the washing your kitchenware will be done regularly. Last but no least, the kitchen must be comfortable enough to accommodate your family gatherings for dinner. It should also motivate and inspire you to experiment with your cooking fiestas. To attain the kitchen that you have always desired, you should use the help of real professionals. Our company provides professional kitchen fitting in Kingsbury NW9.
Kitchen Fitting Services in Kingsbury
Our professional service includes a full range of kitchen fitting procedures such as:
Mounting of appliances and furniture
Design assistance
Painting and decorating
Electrical and plumbing systems
Lighting and ventilation installations
Get a Free Quote Now!
All of our workers are well trained professionals. Our team consists of fitters with specialisation in different areas and skills which find their use in the kitchen creation process. We have experts who are licensed to install electricity systems needed to provide your kitchen with safe and energy efficient installation. Our specialists in Kingsbury have the tools and equipment to fit your kitchen plumbing and drain systems to save from the troubles of dealing with leakages and broken pipes. We also have designers who will assist you with information and ideas that will help out with layout choice. They will only guide you in your choice, so you would pick the style that will suit your personally.
Professional Kitchen Fitters in Kingsbury NW9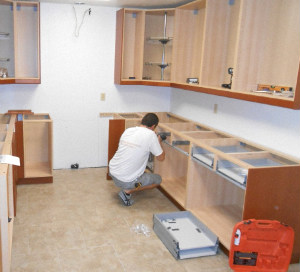 We can offer you wide arrangement of sinks, refrigerators, ovens, freezers, counter tops, kitchen tables, chairs and everything else that you would like to have inside your new cooking room. Our fitters are available seven days per week in Kingsbury so don't hesitate to contact us whenever you like. All of our services come at a reasonable price designed to accommodate the needs of the common client. If you choose us for your kitchen makeover we can guarantee you professionalism in every aspect of our service.
Professional kitchen fitting in Kingsbury NW9 is what our company has to offer you. You can find our agents in our office in London. If you don't want to bother yourself with travelling, you can always gives us a phone call. We will need your contacts and address to book your kitchen fitting service.