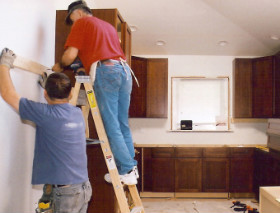 PTMaintenance provides kitchen fitting services in Mortlake, SW14. Our experienced kitchen fitters will take care of every detail during the installation of your new kitchen.
Our company is a leader in providing excellent kitchen fitting services in the area of Mortlake SW14, London. We are very serious when it comes to giving quality services to our customers. We can guide and help you design your new kitchen, as well as supply you with the most qualified and friendly technicians for every step of the way. Our company has expanded over the years because of the dedication of our workers and the numerous satisfied customers.
Kitchen Fitting Services in Mortlake
We offer you a complete package for any type of refurbishment project you are up to, here are some of the services that are included in our kitchen fitting:
Full electrical inspection and installation
Complete kitchen plumbing installations and updates
Whole kitchen re-piping
Plastering and painting jobs
Tile installation
Flooring and carpeting
Kitchen cabinet drawer and slide system installation
Full design management
Get a Free Quote Now!
One of the first things you will probably think of when you do a kitchen refurbishment, is replacing the old cabinet drawers. We can help you find the best kitchen drawer dealers in Mortlake SW14 and our handy workers will install them in place.
Professional Kitchen Fitters in Mortlake SW14
When you are considering the type of floor for the kitchen, you should keep in mind that there will be a lot of spills and droppings of heavy and sharp objects, including knives and forks. For these reasons, laminate floors might not be the best solution. Hardwood floor is a good choice; it will add stylish look and a feeling of comfort to the kitchen. However, it might be little pricy. On the other hand, kitchen floor tiles are durable, with low – maintenance rate and depending on the type of tiles you will choose, you might have a really good deal on the price.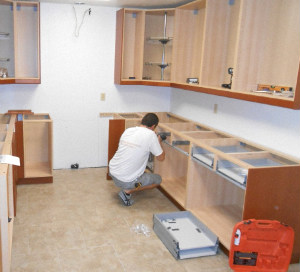 Our qualified electricians will inspect the old wiring systems and install new sockets and switches for the new kitchen appliances. When it comes to wiring your house, you shouldn't trust unqualified electricians for this job.
Our plumbers will re-pipe all the plumbing installations. They will connect all the appliances that need drainage systems like the sink trash disposals and dishwashing machine.
We've got everything you will need for your kitchen fitting project from A to Z. We offer you the most affordable price in all Mortlake SW14 area. You can book either through our website or our dial our number every day.