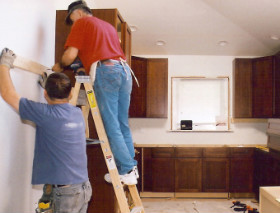 PTMaintenance provides kitchen fitting services in Muswell Hill, N10. Our experienced kitchen fitters will take care of every detail during the installation of your new kitchen.
Are you dreaming of a new kitchen? Do you need to replace the cabinets or the worktops? If you trust our reputable firm, you can have a modern and beautiful kitchen installed as soon as possible. We run our business in Muswell Hill N10 and provide high-quality kitchen fitting. We can take care of every single detail and make the best of your kitchen. Try our services and you'll see what we mean. Just to let you know, we have a call centre. It operates twenty-four hours a day, seven days a week. With regard to our technicians, they are at your disposal every day in the week. Get in touch with us by phone or e-mail and we'll give you more information. We're confident that you will be happy for hiring our company to fit your kitchen.
Kitchen Fitting Services in Muswell Hill
Here at our company we provide the following:
All steps of kitchen fitting, carried out by us
Every kitchen unit installed professionally
Service done on the agreed date
High-quality results guaranteed
Get a Free Quote Now!
Thanks to our high-quality kitchen fitting service in Muswell Hill N10 you can have your washing machine, basins, cabinetry, oven, stove, worktops and etc. installed anywhere in your kitchen. We can fit all the appliances at a place you like better. You can create your own kitchen design fully complied with your preferences.
Professional Kitchen Fitters in Muswell Hill N10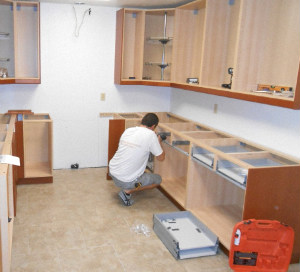 How do we fit kitchens? There are several steps: planning the layout, preparation, assembling kitchen units, finishing the project. It is essential that we plan the layout before we assemble your kitchen. In the plan we're going to include every unit you want to have in your kitchen. We'll place all units where you want them to be.
Preparation involves removal of existing appliances and cabinetry, inspection of area and making measurements. When the kitchen furniture and units are delivered, we'll come to assemble them. When we're done, we'll inspect the work and provide additional adjustments if necessary. Before we leave your place, we'll make sure everything is in working properly, including sinks and electrical appliances.
We are very enthusiastic about our kitchen fitting service and believe it will be useful to you. If you would like to book such, note that we cover Muswell Hill N10 and work seven days a week. Our company is also operated during bank holidays. It will be a great pleasure for us to give you a hand. Just make sure you get in touch with us soon.