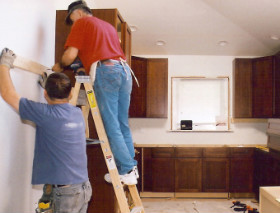 PTMaintenance provides kitchen fitting services in Northfields, W5. Our experienced kitchen fitters will take care of every detail during the installation of your new kitchen.
What makes our offer unique is that we'll take care of even the smallest details that are related with kitchen fitting – plumbing, wiring, plastering and insulating are all our duties and you won't be bothered with them! The price of our service is very fair as well, so we are sure that most homeowners will easily afford the help of our professionally-trained expert fitters.
Kitchen Fitting Services in Northfields
Of course, this was until they discovered our excellent kitchen fitting service that instantly deals with all your kitchen problems. Our kitchen fitters in Northfields are licensed specialists who've been working for us for years, so they are familiar with the job, and know how to get it done swiftly and professionally.
Get a Free Quote Now!
A poorly fitted kitchen can lead to various problems – malfunctioning appliances, leaking pipes, bad wiring, etc. You can avoid all these problems with a single phone call to us! We offer an affordable and reliable kitchen fitting service that can be tailored to suit your budget and requirements. Our rich experience and skilled employees give us the confidence to say that we are the most complete kitchen fitting contractor in Northfields, London.
Professional Kitchen Fitters in Northfields W5
It doesn't matter how expensive kitchen suite you are about to buy, because fitting it properly is what really matters in terms of quality and functionality. Many of our past clients spent enormous amounts of money on expensive kitchen suites, but they ended up disappointed because of the poor way their kitchen was fitted.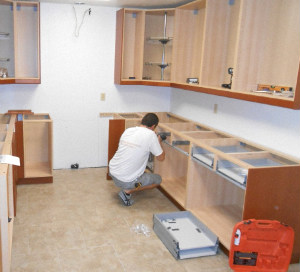 Our employees are prepared for any challenge you may throw at them, so you can rest assured that regardless of your kitchen suite's size and complexity, the job will be done in a swift and professional manner. Our workers will clean up after they are done fitting your new kitchen, so you'll be welcomed by a spotless & shining room that will serve you well for years to come. More detailed pricing and booking information can be found by contacting our Northfields W5 support staff that is available seven days a week. You should also get in touch with them if you have any specific questions regarding our kitchen fitting service.