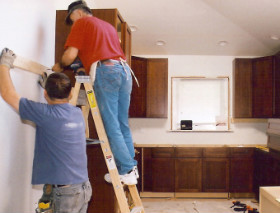 PTMaintenance provides kitchen fitting services in Southgate, N14. Our experienced kitchen fitters will take care of every detail during the installation of your new kitchen.
Are you sure that you can makeover your kitchen all by yourself? Remember that a new kitchen requires more than a simple paint job and few kitchenware appliances. If you don't have the skills and knowledge required to make the kitchen of your dreams, don't overburden yourself with work above your strength. The smartest thing to do is to use a professional helping hand. We are a company which provides excellent kitchen fitting in Southgate N14. If you call us for a fitting service, you can rest assure that your kitchen will be safe, functional, energy-efficient and good looking.
Kitchen Fitting Services in Southgate
Here is a short list of their services:
Kitchenware removals
Kitchen fitting and installation
Painting and decorating
Plumbing and drain systems
Electrical installation
Lighting system
Custom design
Get a Free Quote Now!
An excellent kitchen fitting is a service which guarantees qualitative execution of everything from kitchenware transportation and decoration to electrical installation and plumbing systems. We have professionally trained experts who have skills in different areas. Their skills find perfect application in our kitchen fitting procedures in Southgate N14. Our equipment is modern and eases the overall work. We offer you reasonable prices, so don't worry about any sky-high expenses. You can forget about all the complicated moments of kitchen installations and adjustments because our workers can do these things with ease. All you need to do is to make a kitchen fitting reservation and wait for our team.

Professional Kitchen Fitters in Southgate N14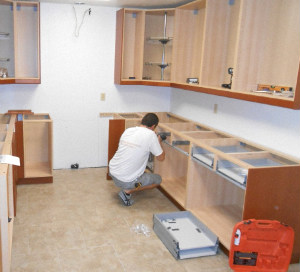 Choose us for your kitchen fitting and we will send a team of various professionals who will grant you the kitchen of your dreams in no time. We have electricians that have all the knowledge to put a safe and energy-efficient installation in your cooking room. Our designers will help you out with colour choices and layout solutions so you can customise your kitchen by your taste. The creative kitchen arrangement is projected not only to deliver comfort but to provide enough room and space for cooking fiestas. Remember that our services are professional and cover the whole process of your kitchen fitting.
Do you know how to solve the problems that come along your kitchen makeover? The best solution is to call our phone number, because our company offers excellent kitchen fitting in Southgate N14. To invite our specialists inside your home, you should make a service appointment. Booking is more than easy – leave your details via phone call or e-mail.