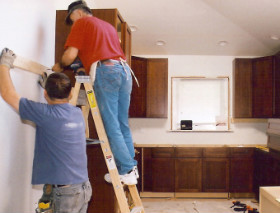 PTMaintenance provides kitchen fitting services in Willesden, NW10. Our experienced kitchen fitters will take care of every detail during the installation of your new kitchen.
If you need professional fitting of appliances in your kitchen, remodelling of your old kitchen or create a brand new kitchen in a style, which is suitable for your home, use our services. The kitchen fitting, which our company provides will make your kitchen stylish and functional. All cooking, cooling and washing appliances, sinks, worktops, lighting fixtures will be fitted in the proper places. Your new furniture items will be assembled fast and properly. If you want you can have some old appliances removed from your kitchen and disposed properly by our fitters. Use our services, provided in Willesden NW10. They are available seven days in the week.
Kitchen Fitting Services in Willesden
Our kitchen fitting can offer you:
Applying some changes in your kitchen, improving and remodelling it
Creating and implementation of a kitchen design by customer's choice: traditional, modern or combined
Removing of unnecessary appliances and furniture from your kitchen
Fitting of electrical appliances, water-using devices
Assembly and fitting of kitchen furniture
Mounting and replacing of sinks, taps and worktops
Tiling, decorating, flooring
Electrical and plumbing installations and work
Get a Free Quote Now!
Professional Kitchen Fitters in Willesden NW10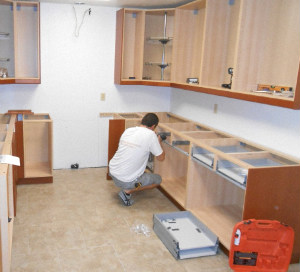 If you want a completely new design for your kitchen, so that it will become more functional, use our services in Willesden. They will guarantee you brilliant work, which will make your kitchen look exactly as you have planned. You can have your kitchen remodelled, improved a lot and designed as you desire. Our team of interior designers and fitters will create and implement the kitchen style you want. After discussing your ideas about the kitchen you want with you, we will prepare a quotation and send it for your approval. If you approve it, we will arrange a time to start implementing your project.
All the electrical, plumbing, tiling, flooring, worktop mounting and fitting work will be done by professionally trained and experienced fitters. You can have more modern, traditional or other kitchen style of your choice, implemented in your home. Your new cupboards, chest of drawers and other furniture will be assembled and fitted in the desired places. You can have your kitchen floor tiled or installed with wooden boards. If you need your sink and taps replaced with new, our fitters will take care of this. Order the kitchen fitting you need by calling our customer care centre or using our website. Our services are provided in Willesden NW10 seven days in the week. They are affordable and reliable.