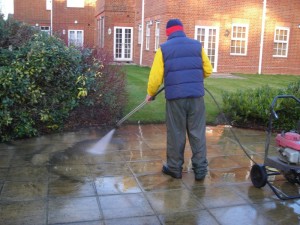 Probably you have been in a situation like the below described:
You have desperately tried to wash something but the stain will not come out. And whatever you do, the stain still stays. Then, if it is on a cloth, the only thing that you can do is to throw it away and it would be awful if this is on new thing.
The same states even if the stain is on the ground. Don't worry there is a way to wash all these stains and the answer to this question is pretty simple – pressure washing.
If you live in a town and you are wondering how to find somebody who is offering this service then we would like to tell you to look no further. We are professional agency who knows how to deal with situations like the above described and thanks to our dedicated and highly trained workers, you can be completely sure that everything will be done professionally.
We would also like to mention a few words on our equipment. We are using only the latest technology in the area of pressure washing and you can be sure that everything we are about to provide is made of high quality materials and is completely child safe and environmentally friendly. As for the price – lots of people think that pressure washing is really expensive but as a matter of fact it is not.
This is why we would recommend you to take advantage of some of our service at least once and when you see the results you will see that you will call us every time you are in need of pressure washing. So don't waste your time trying to clean something on your own – just do the right thing and contact us.