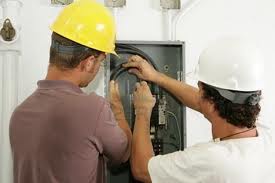 The electricians at PT Maintenance can offer you professional electrical services in John's Wood, NW7 London. We are specialised in electric installations for both domestic and commercial purposes. Our company has been operating in John's Wood for over 5 years and our solutions are preferred by many local residents.
Our engineers are registered at the National Inspection Council for Electrical Installation Contractors which means that domestic customers and businesses can have peace of mind when booking a service with PT Maintenance.
Our Prices in John's Wood
Monday/Friday 7am – 7pm: £70
Monday/Friday 7am – 12am: £100
Saturday 7am – 6 pm: £100
Sunday 7am – 6 pm: £100
All of the work our teams of electric specialists perform in John's Wood is covered by a three month guarantee. Problems with the electrical systems involve high risk and therefore you should get the issue diagnosed by an experienced electrician. The tools and instruments our workers use are top quality. The services offered by PTMaintenance include fuse board enhancements, mild electrical repairs, cabling installations for the newly built properties, periodic inspections, and PAT inspection. Below you can find a full list:
Installation and Rewiring Solutions John's Wood
Rewiring offices, Rewiring houses
Installation of new switches and sockets
Hot water heaters
RCD unit installation
Commercial design and installation
Data and communications cabling
Bathroom and kitchen extractor fans
House lighting repair and installation
Garden lighting design and installation
Emergency Electrician John's Wood
If the electrical systems fail within a home or office, the people living or working there face an emergency situation. The reason behind is that no electricity renders a property barely habitable. It means that you cannot use hot water, lighting, fridge / freezer, heating, you are not able to prepare food.
About John's Wood
St. John's Wood forms a part of London's north-west and bears the NW8 postcode, which according to the Forbes magazine is London's fifth most expensive area.
A good number of "villa" housing developed during the early days of the 19th century here, compared to the more popular terraced housing of that time. The district has undergone a lot of changes over the years, but it still remains a sought-after and desirable residential area in the city and an expensive one too.
It is home to the modern day cricket, with the area being the location of three major pillars of the sport- the Lord's Cricket Ground, Marylebone Cricket Club and the Middlesex County Cricket Club.
The district is also well-known for the street of Abbey Road and the Abbey Road Studios. It is here that The Beatles recorded its famous album, "Abbey Road". The road is also featured in the album cover.
Ex-Beatle Paul McCartney owns a property here and can be seen regularly taking strolls along the High Street. Notable people associated with the place include the likes of A.J. Ayer, Clarissa Dickson Wright, supermodel Kate Moss, actor Damian Lewis, Keith Richards, Jonathan Miller, musician Lilly Allen, Sir Richard Branson, cricketer Imran Khan, ex-PM John Major, Jonathan Rhys Meyers, Ewan McGregor and Sachin Tendulkar.
The place has a special mention in literature, with Arthur Conan Doyle using it as the residence of Irene Adler in his "A Scandal in Bohemia".