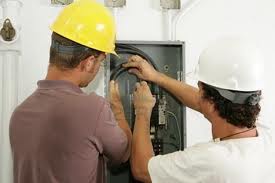 The electricians at PT Maintenance can offer you professional electrical services in Kilburn, NW6 London. We are specialised in electric installations for both domestic and commercial purposes. Our company has been operating in Kilburn for over 5 years and our solutions are preferred by many local residents.
Our engineers are registered at the National Inspection Council for Electrical Installation Contractors which means that domestic customers and businesses can have peace of mind when booking a service with PT Maintenance.
Our Prices in Kilburn
Monday/Friday 7am – 7pm: £70
Monday/Friday 7am – 12am: £100
Saturday 7am – 6 pm: £100
Sunday 7am – 6 pm: £100
All of the work our teams of electric specialists perform in Kilburn is covered by a three month guarantee. Problems with the electrical systems involve high risk and therefore you should get the issue diagnosed by an experienced electrician. The tools and instruments our workers use are top quality. The services offered by PTMaintenance include fuse board enhancements, mild electrical repairs, cabling installations for the newly built properties, periodic inspections, and PAT inspection. Below you can find a full list:
Installation and Rewiring Solutions Kilburn
Rewiring offices, Rewiring houses
Installation of new switches and sockets
Hot water heaters
RCD unit installation
Commercial design and installation
Data and communications cabling
Bathroom and kitchen extractor fans
House lighting repair and installation
Garden lighting design and installation
Emergency Electrician Kilburn/h2>
If the electrical systems fail within a home or office, the people living or working there face an emergency situation. The reason behind is that no electricity renders a property barely habitable. It means that you cannot use hot water, lighting, fridge / freezer, heating, you are not able to prepare food.
About Kilburn
The district of Kilburn is part of three London Boroughs- Brent, Camden and Westminster. It is a multicultural and busy district and one of Greater London's 35 major centres. It consists of London's largest Irish population as well as Afro-Caribbean population.
Kilburn High Road was an ancient track-way, forming a route between the St. Albans and the Canterbury settlements. It got paved under the Roman rule and was given the name of Watling Street during the Anglo-Saxon times.
Killburn is made up of a number of diverse ethnic groups such as Afro-Caribbean, Irish, Indian, Pakistani, Bangladeshi and Somali backgrounds. The presence of the Irish in huge numbers is evident from the fact that many Irish community activities, GAA sports clubs, Irish pubs, Irish newspapers and celebration of St. Patrick's Day prevails in the area. Sometimes, the area is jokingly called County Kilburn.
Major landmarks of the area include Gaumont State Cinema that opened in 1937 and was one of the biggest auditoriums in Europe, with a seating capacity of more than 4000 people. Presently, an Evangelical church uses the building.
Also quite significant was the Tricycle Theatre, which got opened by converting Forester's Hall. It is a well-known art centre and no includes a cinema, theatre and gallery. The south of Kilburn is highlighted by St. Augustine's spire, which is sometimes referred to as the "Cathedral of North London" because of its size. It was completed by John Loughborough Pearson in 1880.