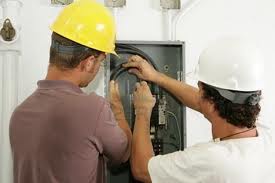 The electricians at PT Maintenance can offer you professional electrical services in Hammersmith, W6 London. We are specialised in electric installations for both domestic and commercial purposes. Our company has been operating in Hammersmith for over 5 years and our solutions are preferred by many local residents.
Our engineers are registered at the National Inspection Council for Electrical Installation Contractors which means that domestic customers and businesses can have peace of mind when booking a service with PT Maintenance.
Our Prices in Hammersmith
Monday/Friday 7am – 7pm: £70
Monday/Friday 7am – 12am: £100
Saturday 7am – 6 pm: £100
Sunday 7am – 6 pm: £100
All of the work our teams of electric specialists perform in Hammersmith is covered by a three month guarantee. Problems with the electrical systems involve high risk and therefore you should get the issue diagnosed by an experienced electrician. The tools and instruments our workers use are top quality. The services offered by PTMaintenance include fuse board enhancements, mild electrical repairs, cabling installations for the newly built properties, periodic inspections, and PAT inspection. Below you can find a full list:
Installation and Rewiring Solutions Hammersmith
Rewiring offices, Rewiring houses
Installation of new switches and sockets
Hot water heaters
RCD unit installation
Commercial design and installation
Data and communications cabling
Bathroom and kitchen extractor fans
House lighting repair and installation
Garden lighting design and installation
Emergency Electrician Hammersmith
If the electrical systems fail within a home or office, the people living or working there face an emergency situation. The reason behind is that no electricity renders a property barely habitable. It means that you cannot use hot water, lighting, fridge / freezer, heating, you are not able to prepare food.
About Hammersmith
The district of Hammersmith is situated in West London, England. This district is the English home to some popular multi-national companies such as Coca Cola, Universal Music Group, Disney etc and forms one of the key commercial centre and transport hubs of West London. Shepherds Bush forms the northern part, followed by Chiswick in west, Fulham to its south and Kensington summing up the eastern part. For decades, the Polish
minority of London have made this district its main centre.
Sir Nicholas Crispe built the first parish church of Hammersmith back in the early 1660's which later came to be known as St.Paul's. The church housed a monument dedicated to Crispe along with King Charles 1's bronze bust by Hubert LeSueur. William Tierney Clarke designed the Hammersmith Suspension Bridge, which got built in 1827 across the Thames and was rebuilt in 1893. Two Scots named Lewis Kennedy and James Lee formed the Vineyard Nursery, which in the next 150 years introduced a number of rare plants to England such as rose tree and fuchsia.
As far as the entertainment and culture is concerned, the district houses Riverside Studios, Lyric Hammersmith Theatre and the Hammersmith Apollo concert hall. "The Dove", which is known as the world's smallest bar and was frequented by Graham Green and Ernest Hemingway in the past, is in this district. In popular culture, the district features as the Pocket family's home in the "Great expectations" by Charles Dickens. It is the birthplace of actors such as Hugh Grant, Daniel Radcliffe and Tom hardy.