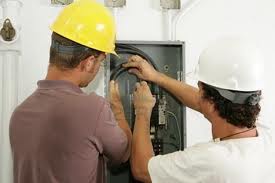 The electricians at PT Maintenance can offer you professional electrical services in Hanwell, W7 London. We are specialised in electric installations for both domestic and commercial purposes. Our company has been operating in Hanwell for over 5 years and our solutions are preferred by many local residents.
Our engineers are registered at the National Inspection Council for Electrical Installation Contractors which means that domestic customers and businesses can have peace of mind when booking a service with PT Maintenance.
Our Prices in Hanwell
Monday/Friday 7am – 7pm: £70
Monday/Friday 7am – 12am: £100
Saturday 7am – 6 pm: £100
Sunday 7am – 6 pm: £100
All of the work our teams of electric specialists perform in Hanwell is covered by a three month guarantee. Problems with the electrical systems involve high risk and therefore you should get the issue diagnosed by an experienced electrician. The tools and instruments our workers use are top quality. The services offered by PTMaintenance include fuse board enhancements, mild electrical repairs, cabling installations for the newly built properties, periodic inspections, and PAT inspection. Below you can find a full list:
Installation and Rewiring Solutions Hanwell
Rewiring offices, Rewiring houses
Installation of new switches and sockets
Hot water heaters
RCD unit installation
Commercial design and installation
Data and communications cabling
Bathroom and kitchen extractor fans
House lighting repair and installation
Garden lighting design and installation
Emergency Electrician Hanwell
If the electrical systems fail within a home or office, the people living or working there face an emergency situation. The reason behind is that no electricity renders a property barely habitable. It means that you cannot use hot water, lighting, fridge / freezer, heating, you are not able to prepare food.
About Hanwell
The town of Hanwell is situated in west London's Borough of Ealing, between Southall and Ealing. The Uxbridge Road was turnpike between Tyburn and Uxbridge in 1714. The revenue collected from such tolls helped in forming a graveled road. Such constant movement along the road helped in the formation of coaching inns through Hanwell's parish.
Historically famous inns such as "The Viaduct", "Duke of Wellington", "Duke of York", "Kings Arms" etc. were built along this road. The introduction of trams back in 1901 caused the population of the village to expand and grow in a faster rate than usual. The tram company strengthened the Hanwell Bridge and a route was introduced on 26th of May, 1906 between Brentford and Hanwell.
Boston Manor, Ealing Broadway, Perivale forms the nearest tube stations in the district, where as Hanwell, Drayton Green and Castle Bar Park are the important railway stations here.
Interesting places in the district that promotes tourism in the district include St. Mary's Church, St. Thomas the Apostle, St. Mellitus Church, the Wharncliffe Viaduct, Central London District School, Elthorne Park, Hanwell Clock Tower etc. The Hanwell Carnival is quite popular in the district and draws crowd from all over. To raise money for the Ealing Hospital, the event was founded back in 1898. Gradually it has become the second- biggest carnival in London.
Also coming to the foray is the Annual Easter beer festival which is held at the Fox Club. In popular culture, Hanwell is mentioned and several of its location has been used in several TV Shows and feature films such as "Bridget Jones's Diary", "Extras", "Brush Strokes" etc.