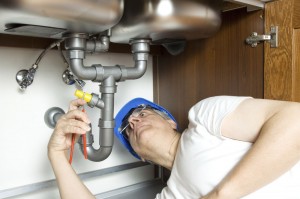 You never know when you are going to need plumbing services, because the plumbing system at your home can start giving you trouble at any given moment. It is always good to know that you can count on a professional company to take care of your plumbing problems and if you want your plumbing system to be maintained by the most skilled technicians in the area then you should book our plumbing services.
We are a reputable company and we've been in the plumbing business for a few years, so we have worked with many clients from entire London. Keep in mind that we offer more than just plumbing services – we can install geothermal systems, move, remove and repair pipes, install drainage and plumbing systems and more! If you want to receive detailed information about all the services our agency offers, then you should contact our friendly and knowledgeable support staff on 020 347 55 444.
The plumbing in your home can break sooner than you think, especially if you are living in an old home and your plumbing system hasn't been maintained regularly. We are here to inspect, maintain, repair and build all kinds of plumbing services. We work with the most modern equipment and materials available on the market and our employees are some of the most experienced plumbers in London. Each one of them has been professionally-trained and they've been a part of our company for years.
We've done our best to create the most convenient plumbing services in London – we offer same-day service, customizable services and most importantly – competitive prices. Each one of our service can be tailored to meet your budget and requirements. Our employees are available seven days a week and you can book their services for any date. We provide them with the necessary cleaning equipment and materials – we assure you that the products they use are environmentally-friendly and non-toxic. As we mentioned earlier, our plumbing services are very affordable and we are confident that we are the most reasonable choice when it comes to plumbing services.
Our plumbers specialize in:
Cleaning sewers and drains
Emergency plumbing services available 24/7
Plumbing services available for commercial clients
Furnace and heater repair
Industrial plumbing
Gas plumbing
Repairing boilers
Repairing tankless heaters
Repairing heat pumps
Repairing sump pumps
Don't wait until your home sinks in water, because of a damaged plumbing system!To feel free to contact us on 020 347 55 444 and our plumbers will gladly inspect the entire installation in your home and inform you about the problems found. Don't forget that we work with both private and commercial clients, so give us a call if you want us to inspect the plumber and drainage system in your office. Get in touch with us if you have any other questions about our plumbing services.