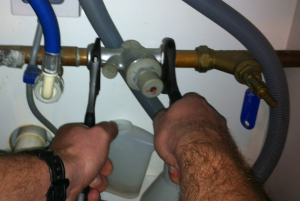 Many plumbing problems can be fixed by a regular person. However, from to time, you'll face a problem which you can't take care of. In this case you'll need to call a professional plumbing service and we promise you that you won't be disappointed if you take advantage of our general plumbing services.
We are a company which has been in the plumbing business for a while and we offer a full range of plumbing services which can be tailored according to the needs and budget of our client. Each one of these services is carried by professionally-trained and experienced plumbers who do their best to meet the ever-rising expectations of our customers.
We offer all kinds of plumbing services – from regular plumbing services for residential properties to complex plumbing jobs for commercial facilities. If there is a problem with your plumbing installation, then we guarantee that our workers can fix it. Some of the areas in which our workers specialize are:
• Stoppages
• Water heaters
• Lavatories and sinks
• Cleaning sewers and drain
• Drain and sewer repair
• Fire sprinklers
• Gas lines
• Backflow prevention
• Root infestations
• Copper repiping
• Sump pumps
• Video inspection
• Preventive maintenance
This is just a small portion of the things which our workers can do! Our plumbing services are very affordable and as we mentioned earlier, you can tailor them to suit your budget and requirements.
Our plumbing services are available seven days a week and our workers have very flexible work hours, so you can get in touch with us whenever you need plumbing services. We'll dispatch a technician to inspect and fix the problem as soon as possible. Give us a call if you need more detailed information about our general plumbing services.