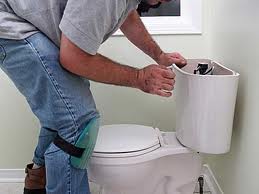 Toilet installation is quite difficult and it must be done properly in order to prevent leaks and future problems. If you have already bought a toilet, but you are looking for someone to install it, then you've come to the right place. We are an experienced and renowned company which offers various plumbing services.
You'll be glad to know that we have a team of professionally-trained and experienced plumbers who can carry out all kinds of plumbing jobs, including installing toilets. Our employees are devoted to their job and we guarantee that they'll do their best to meet your requirements and provide you with a functional toilet which will last for years.
The toilet installation process isn't very simple and you can save yourself a lot of money and time if you leave it to professional workers. Our workers follow a strict work order in order to make sure that everything is properly installed and working. They won't leave your home until they are absolutely sure that the toilet is installed properly and that it is fully functional.
Our toilet installation service includes removing the existing toilet and installing the new one, caulking and testing. We assure you that once our workers are finished, you'll have a functional toilet which won't give you any troubles for years.
Our toilet installation service is quite affordable, in fact it is the most affordable in entire London, so we should be your choice if you are looking for an affordable yet qualitative toilet installation service. Our work hours are very flexible and our employees can visit you at a time and date convenient for you. If you have any additional questions about this service, you can get in touch with our support staff via the phones listed in the 'Contact'