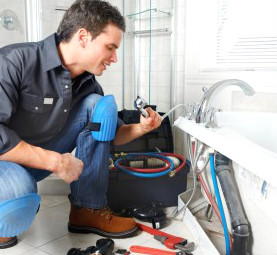 If you search for the best bathroom fitting services in London you can count on our respected and experienced company without any hesitation. Our bathroom fitters can install showers, toilets and other units in a thoroughly professional way. We will be happy to install your bathroom suite in the fastest possible way and we can assure you that our staff is very competent and organized.
Your bathroom will be transformed into a stylish and comfortable place, thanks to the efforts of all our employees. We are glad to provide excellent availability for all our customers who want immediate and professional bathroom fitting. We are able to plan every detail of the installation of bathroom units and we assure you that we will come equipped with the most appropriate and modern tools. Everything will be taken care of – from the design and general planning to the building and decorating.
We always strive to meet the requirements of our customers and we will take all your preferences for the bathroom fitting into consideration. We will demonstrate full loyalty and reliability that is second to none.
Bathroom Fitting Services London includes:
Fitting of the floor tiles into the bathroom
Installations of showers, sink, toilets
Tiling of the walls
Full installation of bathroom suits
Any electrical work that is required
Affordable and competitive prices
Comprehensive and reliable staff
Our bathroom fitting service in London is impeccable because we cooperate with dedicated workers who are always punctual in their appointments. We are able to give you valuable advice on the installation and improvements of your bathroom and we will be happy to listen to your ideas. Your new bathroom suite will be installed due to all the regulations and in a very careful manner. We will offer you excellent bathroom projects, suitable for your taste and needs.
Here is how the process usually goes:
We will come and discuss the whole project with you. We will include all your ideas and requirements.
The design and a detailed plan of action will be presented to you.
You will receive a quote and a deadline for the completion of the project.
The builders will remove old tiles, demolish walls, replace windows and strip walls of old paint and plaster.
New floorings will be installed, new tiles will be placed and all walls will be re-skimmed and plastered.
Your furniture will be assembled and fitted.
All appliances will be installed and connected.
We can give you a guarantee that the whole process of the bathroom fitting will be organized and implemented in a professional way. We have significant experience in installation of bathrooms and we are confident in what we can offer our revered customers. Our bathroom fitting in London is affordable and in addition to this, we have prepared exclusive offers for our new customers. We do not make any compromises with the quality of work that we offer and that is why we know that you will be content with the final results. Pick up the phone and book the bathroom fitting of your dreams!