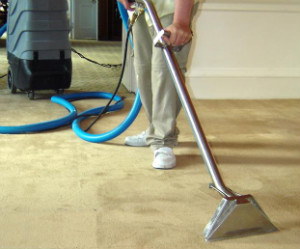 Taking care of your carpets on a regular basis can prolong their lifespan and make them pleasing and neat-looking. What is more, the only proven method for eliminating all the allergens stuck to the fibres, is getting your carpets professionally cleaned.
Everyone with carpets in their house knows how hard it is to maintain them clean and that it is even harder to get rid of stains and dirt that build up on their surface. A dirty carpet looks unpleasant but can also cause a lot of health issues that you definitely want to avoid. We suggest that you regularly clean your carpets ( once every 6-8 months). This will improve the hygiene in your house, the overall looks of your interior and what is more – it will prolong the life of your carpets.
The carpet cleaning service is often regarded as an investment in the healthy environment at home so please read on and see how you can protect your family from the negative impact of the germs and why professional carpet cleaning can contribute to that.
What is included in the price?
The carpet cleaning service includes a couple of activities, some of which require precision and knowledge, otherwise the desired results might not be achieved. Book a cleaning service with us on 020 347 55 444 and we will take care of everything else.
Our technicians will come over and run multiple tests on your carpet. That way they will determine the fabric and materials it is made of. It is of crucial importance for the cleaning process since all fabrics and materials react differently to certain products. Our technicians are experienced and will pick the best cleaning solution that will not damage your carpets.
Thorough vacuuming follows. All dust, dirt and other debris will be removed from the carpet. This will improve the quality of the cleaning and will fluff up your carpet fibres so the cleaning products and the hot steam are able to reach deeper.
The solution of choice will be applied. All stained and highly polluted areas will be treated with the special cleaning product. The chemicals in it will help dissolve all dirt and stains. The products will not damage your carpet fibres, nor will cause any harm to your health, since they are 100% safe and non-toxic.
The steam cleaner is used all over the carpet. This powerful tool extracts hot steam ( up to 130 degrees) and attacks the stains. The temperature and pressure of the steam are regulated, depending on the carpet type and the stains found on it. This method is extremely efficient in extracting dirt from all carpeted surfaces.
Your carpets will be deodorised and the moisture will be extracted from them. This will leave them smelling nice and slightly damp, instead of soaking wet.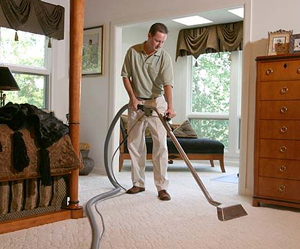 Steam Cleaning is the most efficient method against dirt and stains. It is able to remove all stains and what is more, the high temperature kills all bacteria and microbes and leaves your carpets disinfected.
For more delicate fabrics we can also use the Dry Cleaning technique. It is as efficient in cleaning. The whole process takes a bit longer but at the end your carpets are dry and you do not have to wait. This method of carpet cleaning is fairly new. As you have probably guessed by the name, it involves no water. The dry cleaning solution is usually in powder or foam form. It is applied straight to heavily stained areas, sometimes all over the carpet. The chemical composition of this product helps dissolve the grease found in stains. Oils and grease are the components that make dirt stick to carpet fibres. Once removed, the carpet can easily be cleaned. The solution is left on for a couple of hours and when it is done soaking in, our technicians use a rotary machine with cotton pads on the bottom, in order to remove it. This method does not disinfect your carpets like the steam cleaning one, but ensures 100% efficiency in stain removal.
Find Our Carpet Cleaning Services Here:
The best alternative for maintaining your carpets spotless is purchasing our innovative ScotchGuard, intended to protect the absorbing of liquids into the fibres.
The regular maintenance of your carpets will provide your home with a noticeable difference. Not only will your house look fresher and cleaner, it will be a safe and healthy environment for you and your loved ones. Here are some things you can do, in order to keep your carpets clean for longer:
Vacuum all your carpets and upholstery weekly. Yes, vacuuming will not rid you of dirt and stains but it will prevent dirt and dust from building up. Vacuum under and behind furniture, between the couch cushions and in all places with high traffic. This will improve the cleanliness of your carpets, they will stay clean for longer and look fresher as well.
Do not attempt any cleaning by yourself. Forget all home remedies that you have read about on the internet. As we mentioned earlier, different carpet materials react differently to certain chemicals. When you use the wrong cleaning method you can make the stain permanent and even cause serious damage to your carpet fibres. Leave this to the professionals and enjoy your clean carpets.
Why choosing us?
Whenever you feel like you are in need of carpet cleaning, we will be there for you. Our technicians are extremely professional and experienced in their field. They know exactly how to approach even the dirtiest carpet. Rest assured that your carpets will be in good hands. The cleaning technicians will explain the whole process to you and transform your carpets before your eyes.
What is our working time?
Give us a call and book your carpet cleaning service. Our customer service is available 7 days a week and our office agents will be there to help you. They will answer all the questions you have, give you a free quote and help you with the booking process. Do not waste any time and give us a call!
Chek also our Flooring Services.