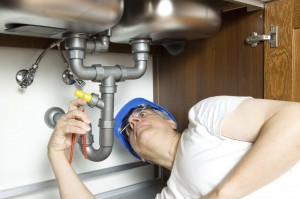 You never know when you are going to need plumbing services, because the plumbing system at your home can start giving you trouble at any given moment. It is always good to know that you can count on a professional company to take care of your plumbing problems and if you want your plumbing system to be maintained by the most skilled technicians in the area then you should book our plumbing services.
We are a reputable company and we've been in the plumbing business for many years so we have worked with many clients from throughout London. Keep in mind that we offer more than just plumbing services – we can install geothermal systems, move, remove and repair pipes, install drainage and plumbing systems and more! If you want to receive detailed information about all the services our agency offers, then you should contact our friendly and knowledgeable customer support staff .
The plumbing in your home can break sooner than you think, especially if you are living in an old home and your plumbing system hasn't been maintained regularly. We are here to inspect, maintain, repair and build all kinds of plumbing services. We work with the most modern equipment and materials available on the market and our employees are some of the most experienced plumbers in London. Each one of them has been professionally-trained and they've been a part of our company for years.
We suggest that you leave the plumbing to the professionals. Not only may it require special skills and tools, but by doing the wrong thing, you may cause further issues that will be expensive to fix.
Here is a list of the plumbing services we provide:
Unclog sink drain, toilets, pipes – A clogged drain can cause many problems – leaks, burst pipes, bad odors, etc. If you think that your drain is clogged then you should seek the assistance of a professional plumbing company. We are an experienced and renowned company which offers all kinds of plumbing services – from simple ones like unclogging drains, pipes and toilets to complex plumbing jobs like installing gas systems and appliances.
Repairing Leaking or Burst Pipes – Even the most durable plumbing system may malfunction. One of the most common problems with plumbing systems is a leaking or burst pipe. This problem may be caused by many things, but one thing is for sure – it must be resolved as soon as possible. If you have a problem with a burst or leaking pipe, then you should get in touch with our company.
Repairing or Replacing Taps – Taps have a different life expectancy and while most of them can last a few years, cheaper models can break down in a matter of months. If you notice that your tap is leaking, then you should contact a professional plumber to inspect the problem. Our company offers a qualitative and reliable tap replacement and repair service which is available for residents of the entire London area.
Power Flushing London – You may have noticed that your central heating system isn't working as well as it used to work when it was first installed. The reason for this is the sludge which accumulates in the pipes over time. This prevents the radiators from properly distributing the heat around the house and might result in some rooms being colder than others. Our company offers one of the most affordable power flushing services in London and we guarantee that central heating systems maintained by us last for many years and function the way they are supposed to.
Installation of Toilets – Toilet installation is quite difficult and it must be done properly in order to prevent leaks and future problems. If you have already bought a toilet, but you are looking for someone to install it, then you've come to the right place. We are an experienced and renowned company which offers various plumbing services.
Installation of Showers and Bathrooms – If you are looking for someone to install your new shower or bathroom suite, then you've come to the right place. We are an experienced company which specializes in plumbing services. We've been in the plumbing business for many years and our workers have satisfied the needs of hundreds of private and commercial customers. We guarantee that our plumbing services are the best choice in London and that no other company can match the quality and price of our services.
Installation of Gas Appliances – Installing a gas appliance isn't so difficult, but it must be done properly in order to ensure the safety of the people working with the appliance. If you have recently bought a gas appliance, then we advise you to contact our company and take advantage of our gas appliance installation service.
Central heating Installation – Nowadays, many homes rely on central heating installations. If you are planning to install such an installation at your place, then you should contact a contractor which has years of experience and has proven its reliability and professionalism. If you want to have your central heating installation installed by a team of professionally-trained and experienced technicians, then you should get in touch with our company.
Installing and Repairing Water Heaters – Water heaters can save you a lot of money, especially if they are functional and positioned properly. Our company offers a professional water heater installation and repair service which can be booked by clients from all London areas. We can install water heaters of all types.
Installing and repairing Boilers – One of our highly sought offers is the boiler installation and repairs service which is annually booked by many private and commercial customers. We employ a team of professionally-trained and experienced technicians who can work with boilers of all types and sizes. They have installed hundreds of boilers and they inspect and repair hundreds of others every year.
Inspecting Heating Installations – Many homes in London depend on home heating installations and in many cases this is the only heating solution they have. If you are living in such a home, then you should make sure that your heating installation is regularly inspected and properly maintained. Our company is one of the leading providers of plumbing services in London and one of our most popular offers is the home heating installation inspection service.
Inspecting Gas Installations – Almost every modern home has a gas installation which provides a constant gas flow to the entire house and powers every gas appliance. However, this installation must be regularly inspected and maintained in order to prolong its life and keep the installation safe. Every gas installation is a potential problem which threatens not only your home, but your family as well. A malfunctioning gas installation can cause many problems, so you should make sure that it is regularly maintained.
General Plumbing Services – Many plumbing problems can be fixed by a regular person. However, from time to time you will face a problem which you can't take care of. In this case you'll need to call a professional plumbing service and we promise you that you won't be disappointed if you take advantage of our general plumbing services.
We've done our best to create the most convenient plumbing services in London – we offer same-day and customizable services, and most importantly – competitive prices. Each one of our services can be tailored to meet your budget and requirements. Our employees are available seven days a week and you can book their services for any date. We provide them with the necessary equipment and materials – we assure you that the products they use are environmentally-friendly and non-toxic. As we mentioned earlier, our plumbing services are very affordable and we are confident that we are the most reasonable choice when it comes to plumbing services.
Don't wait until your home sinks in water, because of a damaged plumbing system. Feel free to contact us on 020 347 55 444 and our plumbers will gladly inspect the entire installation of your home and inform you about the problems found. Don't forget that we work with both private and commercial clients, so give us a call if you want us to inspect the plumber and drainage system in your office as well.