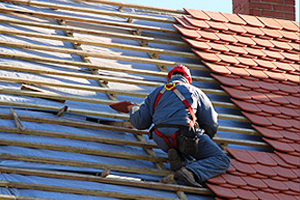 Finding roofing services in London isn't so difficult, because there are many companies offering this service. However, you must try to find the most reliable, affordable and qualitative roofing service. A roof usually lasts between 15 and 30 years, depending on the materials, the weather conditions and the quality of installation.
You can save yourself a lot of time searching and reading reviews by booking our professional roofing services. We are one of the oldest agencies in London and our roofing service is the favourite choice of hundreds of people. Our employees work with residential and commercial clients and we assure you that you will be completely satisfied with the results we achieve.
Proper roofing is important, in order to properly protect your whole house. A good roof is as important as a good foundation and proper maintenance is required. It is important that you find a trustworthy and reliable company to take care of your roof. That way, you may rest assured that no issues will come up, your home will be healthy and protected.
Here is why you should choose us:
We have a lot of knowledge about different types of roofs and the newest roofing technologies. We'll make the best choice for your property.
Professional installation – we've installed hundreds of roofs and we assure you that our workers know how to do their job quickly and professionally. Roofs installed by us will last for tens of years.
Our company is divided into specialised teams which take care of different roofing problems. Our staff is professionally-trained and has years of experience in roof installation, maintenance, etc.
Our roofing service can be booked on a regular basis – our employees will come at the appointed dates and inspect your roof for problems.
We offer professional roof maintenance and repairing service
We provide our workers with the required materials and equipment
Our company is one of the most popular names in London and our roofing service is annually used by hundreds of people . We've worked with residential and commercial clients from all London areas and so far we haven't disappointed a single client. We are confident that our roofing service is the most complete and affordable in the entire London.
The roof of your home or office is one of the most important parts of the building, because it protects your place from the elements – wind, heat, water, sunlight, etc. You should do your best to maintain its condition and repair it when needed in order to protect your home or office from bigger problems caused by the current weather conditions.
Each year our workers inspect, maintain, repair, and build hundreds of roofs and we guarantee that there isn't a job which they can't handle. We have familiarised them with the most recent roofing technologies and each one of our dedicated teams has one very experienced technician who makes the choices. We'll inspect your property and give you a professional recommendation, about the type of roof that should be installed.
Roof repairs – storm damage repair, general roof repair, slipped tiles, cracked tiles, fixing a leak, lead work
Roof replacement
Building new roofs
Loft insulation
Replacing roof lights
Installing soffits, bargeboards and fascias.
Installing gutters
Installing new roofing is one of the most expensive and complicated renovation jobs that a homeowner ever faces. Spending a little more on this may give you a durable roof that can last as long as your house.
Here are some common roofing materials and their durability:
Asphalt Roll – 5 to 10 years
BUR – 20 to 30 years
Wood Shingle – 35 to 40 years
Wood Shake – 35 to 40 years
Composite – 15 to 40 years
Standing Seam Metal – 30 to 50 years
Clay or Cement – 50 to 100 Years
Slate – 100+ years
There are many important steps in the process of roof installation. The professional technicians will make sure to follow all of them and provide you with a professionally installed roof that will be durable and resistant.
Here is how the installation of Roof Shingles goes:
Complete tear off of existing systems. It is of crucial importance since exposing the base of the roof will allow our professionals to inspect the plywood underneath. They will check its condition, spacing and ventilation.
They will inspect the bare roof and the spacing between beams. If needed, parts will be replaced or a whole redecking might be needed. This is important in order to be able to properly secure the shingles.
A drip edge will be installed. It will prevent water from dripping back to the base of your roof and causing damage. It is important to not skip this step, since it will highly prolong the life of your roof.
Synthetic felt paper will be placed all over the roof. We always use the manufacturer's choice. This way you receive a full warranty and the proper condition of your roof is ensured.
Starter shingles are installed. They will help with the proper placement of shingles and prevent them from being damaged by the wind.
Hip and ridge shingles will be installed. They will complete the proper looks and functionality of your roof.
Waste no time and give us a call. Our office agents will assist you and help you book a service.