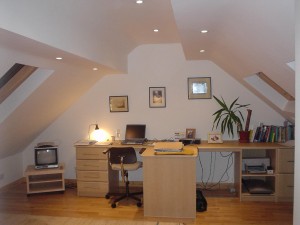 Have you ever thought of turning the loft in your home into a comfortable room which can greatly improve your home's cosiness? Doing this isn't as hard as it sounds because you can always rely on professional companies to help you with this difficult job. If you try to convert your loft by yourself, you'll rarely achieve satisfying results.
This job isn't easy at all and it involves several time-consuming and tiring stages – planning, designing and building. If you want to convert the loft at your place, then we advise you to book our professional loft conversion service. We'll take care of all the difficult tasks and your only assignment will be to enjoy the results.
Loft conversion originates from disused industrial buildings. Nowadays modern developers have made it into a trend. Whether it is going to be an extra room for your house or a whole apartment, the proper use of a loft space can benefit you in many ways.
The popularity of loft spaces has fed the ongoing popularity of stylised industrial architecture and interior design. You are able to find such spaces pretty much everywhere and in all shapes – residential, office or co-working spaces, hotels, restaurants, cafes and even event spaces.
We are a professional company and we've been offering our loft conversion service for years. Our website is the right place to be if you want to learn more about this service – you'll see detailed information about it and detailed photos of past projects and plans. We assure you that our loft conversion service is the most affordable in London, but its quality is unmatched. We've converted hundreds of lofts and we are confident that our employees have what it takes to convert any loft in a beautiful and cosy room.
Get a Free Quote
Loft Conversion from PTMaintenance
Add more liveable space to your home
Wide variety of designs to choose from
Convert your loft into a habitable room
We will help you plan all the process
Affordable rates and quality of work guaranteed!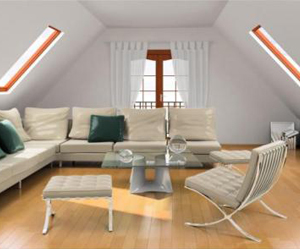 Adding a living space by using your loft can be very beneficial in many ways. This is the most economical way of expanding your property without the use of external space. No space will be wasted and since lofts are quite simple, yet spacious in nature, you will be able to implement any kind of style there.
Some of the areas we cover:
Key Characteristics:
Loft spaces often highlight raw materials – exposed brick walls, concrete, metal, glass and wood beams. Take advantage of them and turn them into statement pieces.
They usually feature open floor plans and are typically devoid of walls. Put this in use and create a big, open and spacious area for you to enjoy.
Large volumes usually include generous floor plans and high ceilings. If your loft is bigger, you will be able to use much more space and turn it into a proper master suite for example.
When converting a loft, there is usually the possibility of creating additional layers thanks to the high ceilings. They can be used for sleeping or working.
Loft conversion is considered a type of sustainable architecture since it repurposes existing buildings.
If you want to take advantage of the most complete and affordable loft conversion service in London, then you've come to the right place. We build professionally and quickly and the results we achieve will certainly meet your expectations. Most of the properties are convertible, as soon as they have the loft space. There are also very few restrictions and things one should consider.
-Where will your staircase go?
-Height of the space with the added flooring and ceilings.
-City council permission for building and expanding.
And here are the most common types of conversion that we make:
Velux Roof Conversion: This is a rooflight only conversion. The windows are easy to install and they don't need any planning permissions. They are very light, resistant and easy to clean.
Minimal building work involved
Can be installed in any property
Least intrusive conversion type
Dormer Conversions: Dormer conversion can save you a lot of space and dormers can definitely improve the design of your home.
Includes lightweight construction
Adaptable in size and shape
Particularly suits semi detached
Mansard Conversion: It is the most complicated and expensive but gives the most space and keeps the design of the property the same as the one in the local area.
Brick built conversion
Suits a mid-terrace property
More sympathetic design styles
Our loft conversion service covers all stages of this job
Our professional will give you a consultation and a visit on site. This way you will be able to discuss the project and share all your ideas with them.
They will advise you on which type of loft conversion would be best for you, as well as what the particular space would be best turned into.
The planning of the whole project will be taken care of. The space will be measured, building materials will be estimated, as well as the general idea of the conversion.
Our designer will draw the whole plan for you, make the best out of the particular space and make sure all your requirements are taken into consideration.
The builders will execute the whole project. Depending on what the size of your loft is, as well as the end result, it could take anywhere from 8-12 weeks.
Whenever people consider converting their loft into a living space, the thought of it being the best room in the house rarely crosses their mind. Most people have the idea of creating an extra room for the children or for work. However, once we are done converting your loft and transforming the dark, gloomy space into a beautiful, bright sun-filled room, you may change your mind. A lot of our customers decided to put a bathroom up in the loft oruse it as the master suite. It is also great for a home office space (since working from home is now gaining popularity). It is perfect for a small living room or a workshop.
The options are endless and it all depends on you. Waste no time and convert your old dusty loft into a beautiful room that will expand the limits of your house and increase the value of your property.
We employ trained and experienced workers and technicians who have already converted hundreds of lofts. They know how to create a good design which will meet your requirements and turn your loft into a cosy retreat. If you have any additional questions about our loft conversion services, you can contact our support staff on 020 347 55 444. They are available any time of the day.