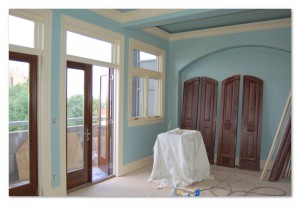 Decorating your home isn't an easy task – it may seem enjoyable but not everyone has the skills required to create a good-looking design which will improve the entire appearance of their home.
If you are planning to design the interior or exterior of your home, then you might want to book a professional home decoration service. Our company offers a very affordable and qualitative home decoration service which can fully meet the requirements of every client. We have created hundreds of designs throughout the years and our employees have always managed to meet the expectations of our customers.
We know that the interior of your home is the reflection of your lifestyle and this is why our workers will cooperate with you in order to create a design which you will enjoy. We'll take care of absolutely everything – initial ideas, sketches, 3D design, installation, etc. We'll save you a lot of time and money and most importantly – the final results will satisfy your needs.
We are familiar with all the products on the market and our employees have proven to be the best choice when it comes to interior and exterior design. Decorating on your own can be very tiring and time-consuming and the worst thing is that the final result might not satisfy you. Let our workers take care of your home decoration and we assure you that you won't be disappointed with the results.
You should choose our home decoration service, because:
Convenient – we'll come to your place and take care of everything. We'll bring our office to you – you'll be familiarised with design concepts, ideas, etc.
Quality – we use the most modern products in the decorating industry. The furniture and decorations we use are of the highest quality
Selection – we work with renowned brands which offer high quality products and services. We'll decorate your home with qualitative furniture, lighting, accessories, coverings, window treatments, etc.
Satisfaction – we'll do our best to meet your requirements and give you the home you've always dreamed of
Lifestyle – we'll make sure that the design reflects your lifestyle and unique taste. We have a different approach towards every client and we'll do our best to create an interior design which matches your taste
Affordability – our prices are the most reasonable in London and you can tailor the service to fit your budget and requirements
Consultation – we offer a complimentary initial consultation with a professional from our team. They will discuss the project in detail and add all your ideas and requirements in the plan.
Reliability – your home will be designed by trained and experienced workers who have already satisfied the needs of hundreds of customers
We worked hard for many years, in order to perfect this service. Now we have a detailed system, in which we approach projects of such kind. We know what works best and what is required of us, in order to satisfy our customers 100%. Whenever you feel like it is time to renovate but do not know where to start, give us a call. A member of our team will come over and hear your ideas. It is very important for us that we know exactly what the customer wants. The designer will make the initial project design and present it to you. You will be able to discuss any changes that you would like to make. Detailed drawings will be made and lists of the required materials will be made as well. You will receive all those before the team starts working on your property. You will know everything that is being used, its cost and what it is used for. The technicians will paint, build and install everything according to your wishes. When they are done, you will be able to decorate.
If you would like some help with the decoration as well, we have the right people for that too. Our interior designers can help you pick the best furniture, decorations and art, in order to compliment the style of your home.
Our home and office painting solutions include:
Painting the interior and exterior of homes
Plastering
Varnishing
Waxing
Staining
Restoration
Rendering
Dado skirting, picture rails and rails
Quality paper hanging
Special finishes
Moulding ceiling roses
Decorating
Receive the ultimate decorating service by hiring us. Our teams are available 7 days a week and will be there to turn your home into the dream place you always wanted it to be. Do not hesitate and call us. We guarantee flawless results in a short period of time.
Playing with the style of your home can benefit you in so many ways. Not only will it make it more pleasant and beautiful, but it will also reflect your inner style and personality. Matching the rooms around your house can improve the overall mood there. You will be able to enjoy your dream house in no time. Just tell us a bit about yourself and your personal style and let us help you! There are many interior design styles we can help you with. Here are some great ideas for your home renovations:
Biophilic Design
This is a design style that draws from the natural world. It involves incorporating materials, textures and colours that occur in nature into your home. The home design creates a calm, earthy atmosphere. It will allow you to be cosy at home while connecting with the elements at the same time.
Coastal Design
This design is characterised by the reflection of natural seaside elements – surf, sand, sky – in the form of colour, shape and texture. It focuses on the feeling of peace and fun you get when being in or near the water. Bright and airy colours and clean lines are usually present.
Swedish Design
It is rather appealing thanks to its focus on high quality natural materials, light, functionality, art, balance, colour and a great detail of nature. Simple colours and practical furniture mixed with some contemporary or modern design elements are often involved.
Vintage Design
Create a unique look for your home by incorporating vintage elements and furniture. Our experts will help you pick the vintage pieces that speak to you and arrange them in a cosy, retro but chic way.
Modern Style
This type of design uses bright, neutral colours, open spaces, large windows and maximum light in the space.Clean lines and natural materials can often be found. This style is simple and practical but also stylish.