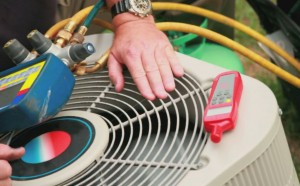 There are many reasons why you might be looking to buy a new Air Conditioning system for your home. Whether you just moved in and want to prepare your house or your old AC is outdated and not properly working so you want to replace it, hiring a professional is highly suggested. You are able to choose from a number of Air Conditioning systems, depending on the size and the location of your home. We offer this service to both residential and commercial clients.
No matter if you decide to get a central AC unit or a ductless mini-split, you want to hire a professional company to do all the installations for you. This will ensure proper air flow and will prolong the life of your AC system.
Nowadays, air conditioners can be found in just about any house. This isn't a surprise, because the air conditioner is the most convenient way to keep your home warm during the winter and cool during the hot summer months. However, just like any other piece of machinery, air conditioners also need to be regularly maintained and they may break down from time to time.
If this happens to you, then you should consider booking professional air conditioning services. We are here to offer you just that – reliable, qualitative and affordable air conditioning services which will surpass your expectations. We've been in this business for years and we have successfully installed and repaired hundreds of different air conditioners.
We employ a team of professionally-trained workers who have been a part of our company for years. They are familiar with all air conditioner brands and we are confident that they can fix any problem in a matter of hours. Our air conditioning services can also come in handy when you need to purchase and install a new air conditioning unit.
Our services are very flexible and they can include lots of stuff.
Here are the most common air conditioning services that we offer:
We'll make all necessary arrangements – plan the entire installation in order to be prepared for anything and complete the job in a short amount of time, without disturbing our client. The work of our employees is constantly supervised and a licensed technician will follow the installation process in order to make sure that everything is properly installed. Proper installation is crucial to achieving maximum performance and energy savings that the unit can produce. Here is how a simple ductless mini-split is installed:
The team will arrive and give you details on the job, equipment information and a list of accessories to be installed.
The location will be chosen and the bracked will be placed, leveled and marked.
Screws with anchors will be placed and the bracket will be mounted in place.
A hole in the wall will be drilled, in order to allow refrigerant lines, control wires and condensation drain to go outside.
Wire connections will be made
The outdoor condenser will be placed on a pad on the ground, mounted to the wall or placed on the roof of your house.
The pipe joints will be connected to the line set and all connections will be sealed.
A pressure test will be run to check for leaks
A vacuum pump will be used to remove all air and moisture prior to to releasing refrigerant into the lines
The manifold gauge valve is closed.
A circuit breaker disconnect box will be installed and a high-voltage connection will be made to the condenser.
Servicing
We can service domestic and residential air conditioning systems. The inspection will find any current or potential problems and fix them. Having your air conditioning system maintained on a regular basis will enhance its performance. We are able to provide AC servicing annually. Here is what we can do:
AC diagnostics & service overhauls
Replacing AC evaporator coils
Repairing refrigerant leaks
Restoring power to AC units
Repairing defective compressors and fan motors
Clearing clogged drains
Repairing
Air Conditioning Systems are frequently used and often need repairing. Whenever a malfunction occurs, call our office straight away. The proper approach will prolong the life of your AC and maintain the temperature of your house in the desired level. Our technicians are able to fix:
Water leaks
Limited Air flow
Strange noises
Odd smells
Long Run Times
Inaccurate thermostat
Warm or weak airflow
Our air conditioner repair service is highly sought and we repair over a hundred air conditioning systems every year. Our workers are supplied with all necessary tools and equipment and they'll arrive at your place at the appointed date & hour. Usually, all repair works are carried out at the property of our client, but in some cases we may need to order new parts which usually arrive within 24 hours. We'll also provide you with a detailed quote.
Our air conditioning services are available for private and commercial clients as well. Give our office agents a call and explain the situation to them. They are able to answer any questions you might have. Whether you need an installation or a repair, they will give you a free quote over the phone and help you book a service.
We also provide End of tenancy cleaning and Carpet cleaning.