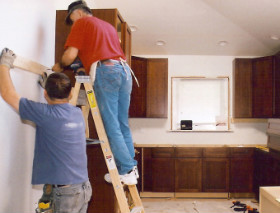 If you want to improve your old kitchen, get rid of some of the appliances and furniture in it, or have a brand new kitchen with all the necessary equipment for its proper functioning, use our kitchen fitting services. They will provide you with professional installation of electrical appliances, fitting of furniture, lighting fixtures and sinks.
You can have the flooring, tiling, painting and decorating that you want in your kitchen. All the electrical and plumbing installations are also part of our kitchen fitting services. Use them if you live in London and we can guarantee you will be happy with the final outcome. We are able to implement any style in your kitchen. Our professional decorators can advise you on what would work best for the space that you have, as well as what style of kitchen would match the rest of your interior design. We will work hard, in order to make all your ideas and wishes come true.
If you use our kitchen fitting services, you will have the kitchen design you dream of. Our team of fitters, electricians, plumbers, fitters and decorators will create the kitchen design you need, according to your requirements. They can remove the appliances and furniture you don't need any more and assemble new ones. Use our services to receive remodeling and improving of your old or completely new kitchen installation.
Kitchen Fitting Services London
Our brilliant kitchen fitting services can offer you:
Mounting and installation of sinks, worktops, cupboards, shelves and kitchen furniture
Installation of electrical washing, cooling and cooking appliances and devices
Installation and fitting of switches, sockets, lighting fixtures
Tiling, flooring, plastering
Painting and decorating walls and ceilings
Removing old and unwanted electrical appliances and furniture from your kitchen
Supplying with new electrical devices and kitchen furniture
Creating the kitchen design you need
It does not matter if you want to get store-bought cupboards and furniture or you would like custom ones made for you. Our professionals will be able to assemble them and fit them in your kitchen in no time. Rest assured everything will be done quickly, efficiently and in a professional manner.
If you want your kitchen to serve your needs, look impressively good and get improved, use our kitchen fitting services. They can offer you installation of new kitchen units and removal of old ones. All the work will be done by professional fitters, decorators, plumbers, electricians, technicians and craftsmen. They can offer you the best design, appropriate for your kitchen and implement the design you want. All kitchen appliances will be arranged properly to serve your needs and make your kitchen practical and functioning for you. It is important to have all your appliances properly connected and installed. This will prevent any malfunction from happening and you can rest assured you will have a perfectly functional kitchen.
Use our brilliant kitchen fitting services to refresh your home and make the changes you want in it. Our kitchen fitting specialists can consult you on every subject and offer you professional advice. All residents of London can take advantage of our services. They are reasonably priced and provide professional results.