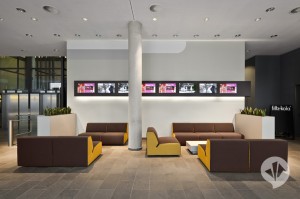 If you are working too hard and you don't have lots of time to pay the needed attention to your office, you might want to know that there is a solution to your problem. If you are already wondering what it is, let us help you with the answer.
We are a company that provides various services in the area of office renovation and painting. When it comes to office renovation and painting you need to know that we are definitely number one on the market. You may also like to know that there is no other agency which cooperates with such professionally trained and dedicated workers. We think that those reasons should be enough for every person to be sure that we are the type of agency they are looking for.
Maintaining the conditions in the office neat and comfortable is often overlooked by employers. However, it is of crucial importance to take care of the healthy and pleasant environment since employees spend a full 8 hour day there. Boosting the atmosphere and creating a comfortable, inspiring space will benefit your business and make them happier to be a part of it.
Here are some ideas we can incorporate in your office renovation:
Maximise the Natural Light
Sunlight has a positive impact on the mood, creativity and productivity of employees. Natural light will help them focus so we will make sure sunlight penetrates further and reaches more employees.
Mood Change by Colour
Instead of the dull, neutral colour scheme in your office, use colours that work for you. Bright colours stimulate and energise. Improve the mood in your office along with this of your employees.
Nature
Nature makes us happier. Flowering plants, greenery, even a water fountain…options are endless. All of those can lower stress, increase attention span and improve concentration.
Open Environment Workspace
Forget about the office cubicles. They provide privacy but isolation as well. Opening up a space will boost the mood of your employees and create a sense of community.
Embrace Flexibility
Instead of solid, permanent walls – use moveable ones. Thoughtful office designs offer flexibility. Allow yourself to move and shift things around and change the space according to your needs.
Invest in Comfort
Ergonomic office furniture is a must. It will improve the productivity and mood of the employees. A casual, comfortable break space with comfortable sofas will benefit everyone.
During all the years we have spent in this business, we have realised what is required of us, in order to fully satisfy our customers' needs. That includes treating them with respect as well as providing them with the type of services we have described and promised.
Thanks to our policy we believe that we have managed to create a long queue of happy customers. Believe us when we say we know how to renovate and paint your office in order to make it a better place for working. So far we have done lots of different offices in terms of size and shape, and all of the customers are really happy with the final result. If you are ready to make that positive change now, give us a call.