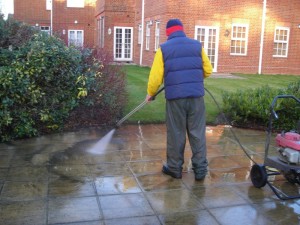 We all know how difficult it is to deal with stubborn stains. No matter how hard we try, they remain intact. Depending on the stain and the surface you are treating, there are different solutions you can turn to in situations like this. It is the same for stains on the ground. Don't worry, there is a way to wash all these stains and the answer to this question is pretty simple – pressure washing.
We are a professional agency and we know how to deal with situations like the one described above. Thanks to our dedicated and highly trained workers, you can be completely sure that everything will be done professionally.
Pressure washing is a powerful and extremely efficient cleaning method. It is perfect for outdoor surfaces that have been through a lot of sun and weather damage. Whenever your patio, driveway or external walls are not looking their brightest – call us and let us take care of this for you.
Jet washing uses water extraction under really high pressure to remove dirt, dust, stains, little stones and even moss and algae. The pressure of the water is regulated, depending on the surface that is being cleaned. Different materials require a different amount of pressure in order to be cleaned and not damaged. Our professional technicians are very experienced and know how to do that in the best, most efficient way possible.
Jet cleaning is perfect for:
patios
driveways
stone walls
cement
brick walls
pavement
garden furniture
wooden fences
The way we work allows us to finish the job very quickly, leaving nothing but perfect results behind. Feel free to call us and book the jet cleaning service for your home. We will transform your exterior into a bright, beautiful place for you to enjoy.
We would also like to mention our equipment. We are using only the latest technology in the area of pressure washing and you can rest assured that everything we are about to provide is made of high quality materials and is completely child safe and environmentally friendly. As for the price – lots of people think that pressure washing is really expensive but as a matter of fact it is not. The service is paid by square meter so you will know exactly how much it will cost you.
This is why we would recommend you to take advantage of our services at least once and see the results you will receive every time you are in need of pressure washing and book our service. So don't waste your time trying to clean something on your own – just do the right thing and contact us.
You may be interested also in our Decorating and Painting services.