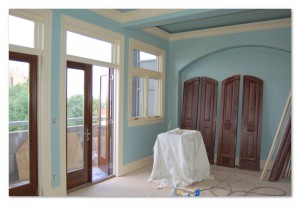 Finding qualitative interior painting services in East London has become a very difficult task .Nowadays, many home improvement companies offer this service, but only few of them can meet the requirements of the average client.
If you want your home to be painted by the most experienced and well-trained painters in London, then you should take advantage of our professional interior painting services. We use the most modern painting techniques, environmentally-friendly products and we guarantee that our workers will pay attention to absolutely every detail.
Everyone who has ever used painting services knows that the painting process can be quite stressful – especially if you have booked the services of an inexperienced and infamous painting company. Don't make this mistake – trust us! We have been in this business for many years and we know how to satisfy the needs of the pickiest clients.
We'll take care of absolutely everything which the painting process involves – choosing the color, preparing the site, painting and cleaning up. We'll treat your home as if it is ours.
Our employees have a lot of experience and know which areas need special attention:
Rugs and floors
Lighting
Railings
Wall cracks and holes
Door and windows
Artwork
Woodwork
Decorations
Mirrors
All you have to do to book our painting services is to dial the numbers shown in the 'Contact' page. You'll reach our support staff and they'll provide you with more information about our painting services and they'll also answer all your questions. Our workers always arrive on time and do their job in a quick and professional manner, so don't worry if your schedule is busy. We are used to working in short deadlines, so we'll easily meet your expectations.
As we mentioned earlier, the painting jobs which we carry out, involve several stages:
Consultation
Preparation
Painting
Cleaning up
Before grabbing their equipment, our workers will make sure that absolutely everything in your home is covered and protected from paint splashes. We use the most modern painting products on the market, so we guarantee that your home will be perfectly painted from the first try. We've never received any complaints from past clients and we do our best to maintain our good reputation.
Many companies will paint your home and let you deal with the garbage left, but we are not like the rest! Our employees will dispose of all the garbage in your home and get rid of it in an eco-friendly way.
Our interior painting services include:
Residential painting
Commercial Painting
Wallpaper Removal
Free color consultations
Drywall repairs