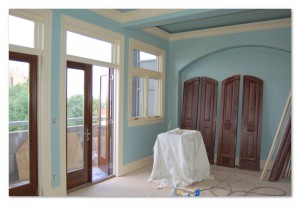 Interior painting services are offered by many companies in London. Many people are skeptic about these services and they prefer to paint their home on their own, but we assure you that these services can save you a lot of time and money. Choosing the right color, paint and brushes can be a tough task, especially if you don't have any experience in painting.
If you want to take advantage of a reliable and renowned interior painting service, then you should get in touch with our company. We have gathered some of the most experienced and trustworthy painters in London, so we are confident that our interior painting services can meet the requirements of the strictest customers. We are well-known for the modern techniques and eco-friendly products which we use. If you want your home to be painted by professional painters, then we must be your choice.
Many people want to save money and book the interior painting services of inexperienced and unproven companies and this is often a costly mistake. We offer an affordable and qualitative interior painting service which can be tailored to meet your budget and requirements. If you decide to trust us, then we guarantee that you won't be disappointed.
We've been in this business for years and the results we achieve have always satisfied the needs of our customers. Give us a call, make an appointment and we'll take care of the rest – picking the color scheme, materials and paint, covering decorations, painting and cleaning.
Our workers have painted hundreds of homes and they know that they have pay special attention to certain things:
Floors
Rugs
Carpets
Lighting
Railings
Doors and windows
Woodwork
Artwork
Mirrors
Decorations
Wall hangings
The quality of our interior painting service isn't the only reason for our success. We are best known for our reliable and trustworthy employees who do their best to satisfy the needs of our customers. Each one of our workers has been professionally-trained and has years of experience.
Our workers are supplied with modern painting equipment and materials and the best part is that you won't be charged extra for them. Our employees will come equipped with the necessary gear and we guarantee that you will be completely satisfied when they finish their job.
We offer our customers:
Residential and Commercial painting
Removing wallpapers
Color consultations
Drywall repairs
Custom painting and finishes
Power washing