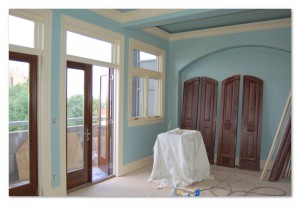 There are lots of agencies out there and all of them claim that they are definitely the best on the market and because of this reason you should choose them. Well, we would like to warn you and tell you that most of the agencies dealing with interior painting services are not as good as they want to be. There are many reasons for this and we will try to tell you only a couple of them.
First of all – most of their workers lack experience and they will not be able to deliver the job in the deadline. Therefore you will have to spend one more day waiting for the paint to get dry and so on. Plus they don't have the needed training.
If you are already convinced that you don't want to let some amateurs come and practice their painting skills at your house then you should take the right decision, which, in this case, is to call us. Our agency has been in the interior painting business for more than 15 years and during that time we have managed to keep all of our customers satisfied with the quality of our work. As for the prices we offer – as you can see they are definitely considered to be unbeatable.
We also offer:
Interior paining for every room
Different styles of paints and colors
Child-safe and environmentally-friendly materials
Some of our competitors believe that it would be better to save some money and use not that good paints but as time passes the colors will start losing their brightness. We, on the other hand, believe in the quality of our services and because of this reason we would like to tell you that we work only with the latest and finest paints on the market. Guarantee of the quality of our work are our numerous client. As a matter of fact you can find lots of reviews written by them on internet and you will see for yourself that all of them are positive.
This is why we are always telling to all of our clients that the most important thing when it comes to interior painting is to choose only the best. After all the colors of the walls are going to be seen by anyone in the house and it would be really bad if they are not painted professionally. Well, you can be sure that we will not let this happen. Thanks to our trained employees with rich experience we promise you that we will handle the job with care and proficiency.
Plus we will give you the chance to choose the color you have always wanted. We offer a wide gamma of colors and shades so it won't be a problem to choose the one that you have been always dreaming of. Don't waste your time trying to find the best agency in the area of interior painting because you have already found it.