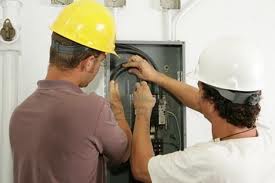 Hire professional electricians in East London for the needs of your home and office. Call PTMaintenance today. Have you recently checked the electrical installation at your home? Believe it or not, but it might be in worse condition than you think.
This is why we recommend to many homeowners to do the best out of the situation and hire our professional electric services in East London.
As a matter of fact, we will make an inspection at your place and if we see major problems we will let you know. In that way you can always be sure that you will not have any electricity- related problems. We have said this thousands of times and we will repeat it now – it is dangerous to perform such operations, especially if you lack experience.
We have been in this type of business in East London for more than 10 years and we know how to perform the procedures in the best way possible.
The reason for this hide in the fact that our polite workers have successfully passed our training schedules and thus we believe that they will do this repeatedly. We will never let any person perform a real assignment, especially if he hasn't passed our training period.
Keep in mind that our services are considered to be very flexible and because of this reason it might be good for you to know that you can tailor our services in anyway you want. Don't worry – our rates are truly affordable and will fit the needs:
Professional electrical services carried out thoroughly by experienced and professionally-trained
workers
We inform our clients about everything related to the maintenance and repair works – you'll receive
information about the problems found and the price you'll have to pay for repairs
Our company only employs checked and insured workers
We offer same-day service which will not increase the price. Our workers are always at your disposal,
so don't hesitate to contact us at any time!
We supply our workers with top-shelf available equipment
We can fix absolutely any electrical problem and install different electrical appliances – the only thing
you will have to do is to give us a call. We work 24/7 so feel free to do it anytime you want.
Some of the things that we can do are:
Installation of intruder and fire alarms
Installation of video/voice intercoms
Correcting power factors
Installation of internal, external and emergency lighting
Installation of telephone systems
Installation of various CCTV systems
Installation of different EPOS systems