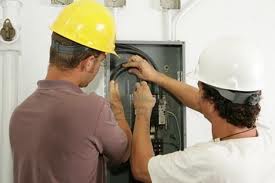 Professional electricians in North London for the needs of your home and office. Call PT Maintenance today. Not many homeowners know what the actual condition of the electrical installation that powers their home is. This is a very concerning fact, considering the dangers which a non- maintained electrical system and faulty wiring hold.
This is why we advise you to have your home's electrical installation checked, repaired and maintained by a reputable and experienced team of electrical specialists.
A faulty electrical system may cause a lot of troubles – short circuits, damaged appliances, fire hazard, etc. This is why it is a good idea to have the electrical installation inspected by professionals at least 1-2 times a year. This will guarantee that it is in perfect condition and it isn't dangerous to your, your family and your home.
We've been in this business in North London for several years, but we have already established ourselves as one of the best companies in this branch. Our services are preferred by hundreds of people and fact that we work with both, private and commercial clients makes us the number one choice among local companies and business organizations. We are the best choice when it comes to electrical services, because:
All our electric services in North London are carried out by experienced workers
You'll received detailed information about all problems we find, their possible solutions and pricing information.
Each one of our workers has been thoroughly checked and we guarantee for their professionalism and reliability.
Emergency electrical services are available, so don't hesitate to contact us at any time. Each one of our workers is provided with the best equipment and materials on the market.
We can take care of a huge variety of electrical problems. Apart from inspecting and maintaining electrical grids, we can also install electrical appliances, fix faulty wiring, and much more.
Our electrical services include, but are not limited to:
Installing intruder and fire alarms
Correcting power factors
Installing emergency, internal or external lighting
Installing lightning protection
Installing CCTV, telephone and EPOS systems
Installing audio or video intercoms
We have been offering our professional electrical services for a while and we are already known as one of the most reliable and experienced companies when it comes to electrical services. We have satisfied the needs of hundreds of clients and we are confident that our workers have the necessary qualities to meet your requirements and resolve all of your electrical problems.