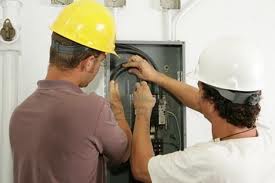 Few homeowners are capable of inspecting and maintaining the electrical installation of their home without hiring the services of professional agencies.
Tampering with electrical installations on your own hides many risks – you can severely damage the electrical grid, the appliances in your home or you can even injure yourself. This is why it is best to leave this job in the hands of trained and experienced professionals.
Our company operates in the North West London area, and we've been offering professional electrical services for years. We work with a team of experienced and trained electricians who have the necessary knowledge, skills and motivation to resolve any electrical problem.
Apart from being efficient, our electrical services in North West London are also very affordable and we assure you that you can't find better prices than ours. Our professional electrical services can be booked not only by private clients, but by commercial customers as well.
Most of our clients book our services, because they want their home's electrical installation to
be inspected and maintained by professionals, but we can carry out a wide range of other jobs
related with electricity. We offer you:
Professionalism
All our services are carried out by the best specialist in this branch Each one of our employees is vetted and fully insured. We maintain a transparent relationship with our clients, so you don't need to worry
about hidden information or fees
All our workers must pass a series of training programs before being sent on any assignments, so we guarantee for their knowledge and skills. They are able to find the smallest problems in an electrical installation and take care of them. We are always ready to help our customers and our mobile team of electricians is available 24/7.
Safety
Our employees are instructed to take all necessary safety measures to ensure their, yours and your home's safety. We supply our employees with modern equipment and materials.
Convenience
Unlike many other agencies, we are actually capable of fixing any electrical problem. This means that you don't have to contact several different contractors to have your electrical grid inspected, a heater installed, and a boiler repaired. Our electricians can take care of all these jobs, and the only thing you need to do take advantage of our services is to contact us.
We can:
Install, repair and maintain all types of electrical installations
Correct power factors
Install telephone, alarm, EPOS and CCTV systems
Install external and internal lighting
Install video/voice intercoms