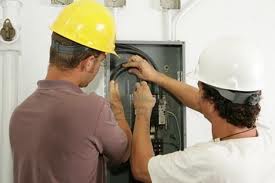 Electric services in South East London provided by PTMaintenance. Call us to hire experienced electricians. The electrical installation in your house may cause serious problems. This is why it might be better for you to
have some professional workers that can hire. In that case you can always count on us. Of course before hiring our company, you will need to call us – you can find additional information on the "contact" tab of our page.
Our electrical services in SE London have been offered for years. Thus, the employees that we are hiring are professionally trained and we are giving them lots of training schedules before giving them a real assignment.
The quality of our services can't be matched. We know that this might sound a little bit over exaggerated but once you give us a chance and see how our workers deal with problems – you will see that we are not lying. Good news is we work with both private and commercial clients, so it won't be a problem to call us in both occasions.
Of course, our electrical services can include more than just maintenance and repairs. We can install various electrical applications and more! Don't hesitate to give us a call if you want detailed information about the jobs which our electrical service covers: Our professional electrical services guarantee:
Other good thing is you can tailor our services and make them fit into your needs and budget. Lots of people
in South East London prefer to deal with this kind of work on their own because they can't afford to spend so much money. As a matter of fact electrical services offered in London might be considered as expensive, but not ours!
Professionalism
Your electrical installation will be serviced by professional and responsible workers. You'll receive detailed information about the time and price required to do the job.
Reliability
Your electrical installation will be repaired and maintained by professionally trained and experienced
electrical technicians. They can find the tiniest problems in the installation and quickly eliminate them. Don't worry if the electrical installation at your place isn't working – our technicians are available 24/7.
Safety
Our employees are fully insured and vetted. We provide our workers with top-shelf equipment. Our employees will take all the needed measures when it comes to repairing electrical installations.
Convenience
Our electrical service can fix absolutely and problem related to electricity. Our workers have the
necessary experience and training to carry out any job related to electrical installations. You'll need to
make only one call and we'll take care of the rest.