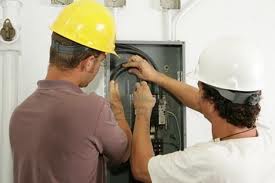 Experienced electricians in South West London for your home or office. Contact PTMaintenance.co.uk for a quote. It is always better to work with professional technicians rather than trying to do the job on your own. When it comes to the electrical installation of your home, you have to be really careful.
In case you want to update the electrical system of your home or office, then you can count on us! We are up to every electric-related job and we will prove this to you!
We are experienced and reliable agency that offers some of the most qualitative and affordable services in
London. The professionally-trained electricians that we are going to send at your place will meet all your needs and will offer you some of the best decision considering electricity problems.
So far we have cooperated with thousands of commercial and private clients through all those years and we are as we can see – they are really happy with our services – this is why you might want to give us a call.
Keep in mind, that even if you are really trained and experienced, it will be better for you to use our services.
Dealing with electricity is really dangerous and if you don't want to risk your life, you'd better choose us! We have managed to deal with so many electrical projects, that it will be no problem at all to handle yours.
Professionalism
Our workers are friendly and polite and will treat your place as if it is their own house. We offer flexible work hours and up-front price quotations.
Reliability
All our workers have been professionally trained and we assure you that they can discover the smallest
electrical problems and fix them professionally and quickly. You can count on us at any moment – we offer the same-day electrical services without extra charging
Safety
Each one of our electrical technicians has been completely checked and fully insured. We supply our employees with the top-shelf materials and tools.
Convenience
Our employees can take care of any electrical problem and we are confident that there isn't a job which they can't complete. You'll need to make just one call and we'll take care of all your electrical problems
Our workers can:
Design and install electrical installations
Install external and internal lighting
Install emergency lighting
Correct power factors
Install structured wiring systems
Install EPOS, telephone and nurse call systems
Install Voice/Video intercoms, CCTV systems, alarm systems
Install lightning protection
Install fire alarms