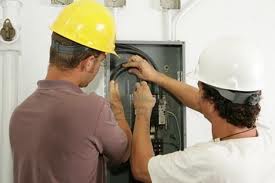 Few homeowners are familiar with the condition of the electrical installation in their own homes, and they rarely have any idea if something is wrong with the electrical systems that runs through their entire home.
A non-maintained and old electrical installation will certainly cause you a lot of troubles – faulty wiring, short circuits and maybe even a fire.
Thankfully, you can prevent all these problems by booking the services of professional electricians in West London who will inspect your home's installation and optimize its safety and efficiency.
If you are looking for a reliable team of electricians, then our company will certainly attract your interest.
We offer professional electrical services in West London that are carried out by professionally- trained, experienced and licensed electricians.
They can perform a wide range of electrical tasks, including repairing, inspecting and installing electrical systems.
Our electrical services are available to private and commercial clients as well, so don't hesitate to get in touch with us if you want the electrical system in your office to be maintained by the best specialists in this branch. We are the right choice, because our services give you:
Professionalism
You'll be serviced be English-speaking, friendly electricians who will service your home in a quick and professional manner.
Reliability and Convenience
Each one of our workers has been properly trained and we guarantee that they have the knowledge and experience required to identify and resolve any issue with an electrical system or appliance. We offer 24/7 emergency electrical services, so don't hesitate to contact us at any time. We guarantee that there isn't an electrical job which we can't take on
Safety
Tampering with electrical installations isn't recommended if you don't have the necessary experience and knowledge. So leave this job to the experts working for us and we assure you that they will take care of all problems that your electrical installation may cause.
We offer a wide range of services, including:
Planning, installing and maintaining electrical installations
Installing professional internal and external lighting
Installing emergency lighting
Correcting power factors
Installing structured wiring systems
Installing CCTV and alarm systems
Installing audio and video intercoms
Setting up fire alarms
Installing lightning protection
There are many other electrical tasks which our employees can carry out. Get in touch with us for a detailed list of services provided and more information regarding our prices.