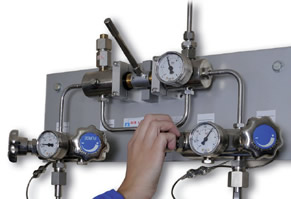 Almost every modern home has a gas installation which provides a constant gas flow to the entire house and powers every gas appliance. However, this installation must be regularly inspected and maintained in order to prolong its life and keep the installation safe. A malfunctioning gas installation causes many problems, so you should make sure that your gas installation is regularly maintained.
Keep in mind that there are many London companies which are ready to inspect your gas installation, but few of them will do a good job. Our company is one of the most popular names in London when it comes to gas installation inspection. Annually, we work with hundreds of private and commercial clients and so far we have never received any complaints about the results we achieve. All vessels, piping, fittings, filters and safety devices will be thoroughly checked and inspected.
Our technicians are experienced and trained to inspect and repair all kinds of gas installations so call us if you have:
LPG, propane and butane installation
Natural Gas installation
CNG installation
LNG installation
Green Gas installation
Hydrogen Installation
We have gathered a team of reliable and devoted technicians who are familiar with different gas installations. They are the best choice when it comes to inspections – thanks to their experience and expertise, they can find and take care of the smallest problems. Inspection and service of all gas installations are of crucial importance. It will help you prevent malfunction and other issues from occurring in the future.
Here is what we check on different gas systems:
Furnace – heat exchanger, flue, gas lines, code issues
Water Heater – flue, gas lines, code issues
Stove – safety test, burners, gas run, on/off valve
Fuel Runs – pressurise, shut off valves
Flue – lining requirements
Gas Grill – function test, gas lines, shut off valves
Our gas installation inspection service can be booked for one-off inspection or on a regular basis. If you want to be completely sure that your gas installation is working properly and isn't a threat to you and your family then you should take advantage of our services at least once a year. We guarantee that our workers will find even the smallest problems and quickly take care of them.
Our gas installation inspection service isn't expensive at all and we are confident that it can be afforded by families with a small budget. Get in touch with us if you want to learn more about our services.
You may also like to see our Plumbering services.