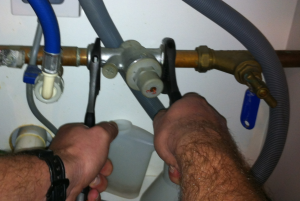 We are a company which has been in the plumbing business for a while and we offer a full range of plumbing services which can be tailored according to the needs and budget of our client. Each one of these services is carried by professionally-trained and experienced plumbers who do their best to meet the ever-rising expectations of our customers.
Plumbing issues are usually simple and quite easy to resolve. However, we strongly advise that you turn to a professional company. Plumbing installations consist of long chains of pipes and systems so one wrong move can cause a big issue that will be much harder to resolve in the future. Do not risk flooding your home or bursting a pipe, call us now and let us help you.
We offer all kinds of plumbing services – from regular plumbing services for residential properties to complex plumbing jobs for commercial facilities. If there is a problem with your plumbing installation, then we guarantee that our workers can fix it.
Some of the areas in which our workers specialize are:
Pipe Repair and Replacement – Pipes are what our plumbers get called for most often. There are a number of issues that you might experience with your pipes and the proper installation of water lines is crucial to the functionality of the plumbing system in your house. This is a complicated task and we suggest you trust our professionals with it. The proper connection of pipes will ensure a safe and functional plumbing installation.
Kitchen and Bathroom Installations – Whenever you are doing a renovation or replacing your old appliances, you will need someone to disconnect and connect them again. As simple as it sounds, this task also requires a lot of skills. Whenever an appliance is incorrectly connected to the water lines, malfunction and leakage may occur. Spare yourself all the stress and give us a call. We will install your sink, shower, toilet, kitchen appliances and anything else you might need.
Drain Cleaning – Drains, toilets and pipes often get clogged. Sometimes this can be easy to fix but there are situations where more serious work must be done. Properly unclogging your pipes or drain will prevent the issue from happening soon after and will ensure a functional, flawless plumbing system. Do not hesitate and give us a call.
Leak Repairs – Finding a leak can be hard. Lucky for you, our plumbers are very experienced and know exactly how to find a fault in the plumbing system of your property. They will inspect the whole installation, find the problem and resolve it in a quick, efficient and professional manner.
Outdoor Plumbing – If you want to get a pool, fountain or an outdoors bathroom, our plumbers will help you with it. Outdoor plumbing is not as complicated as the indoor one (since there are no buildings or walls involved) however, the proper connection of pipes and water lines is of crucial importance.
This is just a small portion of the things which our workers can do! Our plumbing services are very affordable and as we mentioned earlier, you can tailor them to suit your budget and requirements.
Our plumbing services are available seven days a week and our workers have very flexible working hours, so you can get in touch with us whenever you need plumbing services. We'll dispatch a technician to inspect and fix the problem as soon as possible. Give us a call if you need more detailed information about our general plumbing services.