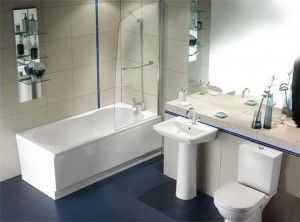 If you are looking for someone to install your new shower or bathroom suite, then you've come to the right place. We are an experienced company which specialises in plumbing services. We've been in the plumbing business for many years and our workers have satisfied the needs of hundreds of private and commercial customers. We guarantee that our plumbing services are the best choice in London and that no other company can match the quality and price of our services.
One of our most popular offers is shower and bathroom installation. We have a dedicated team which carries out this service and we guarantee that they will take all necessary measures to ensure that everything is properly installed and functional.
Here is how our usual bathroom installation process goes:
Detailed plans and drawings are created. They include all dimensions and the general layout of the bathroom. Those are then transferred to the walls in order to ensure that everything fits properly.
Wall mounted panels are installed for the toilet and sink. They give extra support and hide all the pipes.
The height of the toilet is adjusted
Connectors and debris stoppers are installed
A basin frame may be used to provide more security.
More frames are fixed on the walls. They provide a secure base for the shower and bathtub fixtures.
Pipes are connected and secured
In-wall storage spaces are created
The pipe work is tested
The whole bathroom is boarded with special waterproof boards.
Bathtub is levelled
All edges, corners and the areas around the valves are secured with waterproof solution.
Bathtub panel is placed and secured.
Neoprene tape and scrim are placed on the edges of boards and in places that need more waterproofing.
The walls and floor are tiled
Spout, shower mixer and shower head are installed
Sink pipe, taps and basin are installed and fixed
Toilet basin is installed
Toilet seat is put on
Flush panel is installed
Cabinets and mirrors are hung up
We work with the best manufacturers when it comes to pipes, bathroom basins and fixtures. You may rest assured that everything will be of the highest quality. All plumbers providing this service are experienced professionals. They will pay attention to all details and spare no time or effort when fixing your bathroom.
We've installed showers and bathroom suites in hundreds of residential properties and so far we have never received any complaints about the installation. We pay special attention to every part of the process and double-check each connection to make sure that there are no leaks that can cause problems. We can install all kinds of showers, taps, bathtubs, toilets, etc. Just give us a call and our support staff will provide you with detailed information about this service. Don't hesitate to ask them if you have any specific questions about our company and the services we offer.
Don't forget that we offer many other plumbing services, so you can take advantage of them as well. Our working hours are very flexible and we can easily fit in the schedule of busy clients – give us a call and we'll find a way to visit you at a time and date convenient for you.