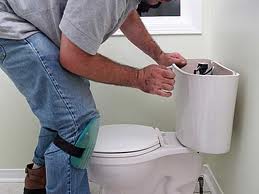 Toilet installation is quite difficult and it must be done properly in order to prevent leaks and future problems. If you have already bought a toilet and you are looking for someone to install it, then you have come to the right place. We are an experienced and renowned company which offers various plumbing services.
You'll be glad to know that we have a team of professionally-trained and experienced plumbers who can carry out all kinds of plumbing jobs, including installing toilets. Our employees are devoted to their job and we guarantee that they'll do their best to meet your requirements and provide you with a functional toilet which will last for years.
The toilet installation process isn't very simple and you can save yourself a lot of money and time if you leave it to professional workers. Our employees follow a strict work order in order to make sure that everything is properly installed and working. They won't leave your home until they are absolutely sure that the toilet is installed properly and that it is fully functional. Leaving this task to professional plumbers will ensure that your toilet is properly functioning and you will not experience any issues in the future.
Our toilet installation service includes removing the existing toilet and installing the new one, caulking and testing. We assure you that once our workers are finished, you'll have a functional toilet which won't give you any troubles for years.
Whenever house renovations are done, bathrooms are often a part of them. Whether you want to replace your bathroom or use your old one, installation will be required. If you want to redo your floor or change the layout of your bathroom, you will have to remove your already existing toilet and place it back later.
Here is how this process goes:
We shut off the water supply first.
We remove the flush tank lid.
We make sure the tank is empty. We may use vacuum to ensure there is no water trapped inside.
We disengage your water supply from your shut off valve.
We unscrew the toilet from the floor.
If the toilet is additionally sealed with silicone or grout, we will remove that as well.
We remove the old wax ring and clean the sewer entrance.
A flange extension is used in order to prevent leaks from happening in the future.
We place the new toilet on top and screw it to the ground.
The water supply is connected and the toilet is ready.
We provide the installation of all kinds of toilets, such as:
Dual Flush Toilets – they have two flush options- a half flush and a full flush
Double Cyclone Flush – they use less water per flush but have the same power
Pressure Assisted Toilet– uses pressured air to force water into the tank
Gravity Flush Toilet – the tank holds water that drops into the bowl whenever you flush
Composting ( Waterless) Toilets – they usually use sawdust, wood chip, coconut coir or peat moss after every use
We can also mount different toilet styles : Two Piece, One Piece, Back to Wall, Wall-hung, High Level or Low Level
Our toilet installation service is quite affordable, in fact it is the most affordable in the entire London area so we should be your first choice if you are looking for an affordable yet qualitative toilet installation service. Our working hours are very flexible and our employees can visit you at a time and date- most convenient for you. If you have any additional questions about this service, you can get in touch with our support staff via the phones listed in the Contact.