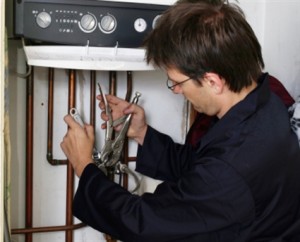 If you are looking for reliable and affordable plumbing services, then you've come to the right place. We are a renowned company which has been in the plumbing business for many years. We offer a full range of plumbing services which can meet the requirements of the pickiest clients, so feel free to give us a call if you are interested in a specific plumbing service.
One of our highly sought offers is the boiler installation and repairs service which is annually booked by many private and commercial customers. We employ a team of professionally-trained and experienced technicians who can work with boilers of all types and sizes. They have installed hundreds of boilers and annually they inspect and repair hundreds of others.
If you think the boiler at your home is broken or malfunctioning, then you shouldn't turn it on. Contact us as soon as possible and we'll send a team of technicians to inspect the problem and present you with detailed information about the problem.
Our technicians are able to install any kind of boiler in your house. Do not hesitate to call and book a service.
They are able to install:
Hot Water Boilers – it is an extremely safe and efficient way to deliver heat to your radiators. Once you adjust your thermostat, the burners will begin heating the water. It will be sent through to your radiators and whenever cool, it will be sent back to the boiler for the process to start again.
Natural Gas Boilers – it will pump natural gas through a pipeline. Natural gas can be regulated. It feeds the boiler in order to keep the burners on. The heating coils will make the water hot before it is distributed to your radiators.
Oil Boilers – oil boilers have a separate tank housing the oil, then pump it to the boiler where it heats the water and sends either hot air or hot water through your heating pipes.
Electric Boilers – very environmentally-friendly and energy-efficient. It works like a regular gas boiler but instead of gas, uses electricity to heat up the water.
Steam Boilers – technically works like a hot water boiler but it heats up the water and converts it into steam that is then distributed to your radiators.
Condensing Boilers – it utilises a heat exchanger to heat the water before it is sent to your radiators and one to reheat after it has come back to the boiler. This allows them to use the energy in exhaust gases to heat it before it has returned.
Combi Boilers – combines both a high-efficiency water heater and a central heating boiler into one unit. They are considered extremely efficient since they heat the water instantly.
We work with some of the most renowned boiler manufacturers in London, so we have the necessary spare parts and equipment to fix any boiler problem. We also advise you to have your boiler inspected at least once a year in order to preserve its good condition and prevent future problems.
The boilers which we install are modern, safe and affordable! Don't hesitate to contact our support staff if you have any questions about our company or if you want to learn more about our boiler installation and repair service.