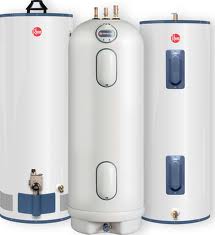 Water heaters can save you a lot of money, especially if they are functional and properly positioned. Our company offers a professional water heater installation and repair service which can be booked by clients from all London areas. We can install water heaters of all types:
• Tankless coil and indirect water heaters
• Solar water heaters
• Heat pump water heaters
• Tankless or demand type water heaters
• Conventional storage water heaters
Each of these water heaters has its pros and cons. Some of them are suitable for houses while others are the best choice for flats. However, you don't have to worry about this, because our licensed and experienced technicians will inspect your home and help you choose the best water heater type for your situation. We guarantee that you won't be disappointed by our water heater installation and repair service.
A broken water heater is a huge problem – imagine not having hot water for a while. This is why we offer a reliable and flexible water heater repair service which can help you fix your water heater immediately. We offer planned and urgent repairs as well so don't hesitate to get in touch with us if you need your water heater repaired immediately.
Here are the symptoms you can watch out for, in order to determine if your water heater needs repairing:
no hot water
inadequate hot water
leaks
tank making noises
water temperature too hot
rust coloured water or bad odour
If your water heater is not working properly and there is no hot water, the most common cause for that is the Thermocouple. This is not a complicated thing to fix but it requires special knowledge about the water heater system. Putting this in the wrong way will cause a disaster.
There are, of course, other reasons that may cause malfunction in your water heater. Our technicians will run tests and determine the cause of the problem.
Test the Wires – They will use special tools to test the voltage of each wire, as well as check if they are all connected properly.
Test for a Burn – Out Element – A bad element is the most common cause for water heater malfunction
Test for a Short Circuit – By starting the water heater and following the processes inside it, the technicians will find a short circuit if there is one.
Remove and Replace the Bad Element – They come equipped with new parts and elements so whenever one needs replacement, they are able to do it straight away.
Our company employs trained and experienced technicians who have worked with hundreds of different clients and water heaters, so we guarantee that they have the necessary knowledge and expertise to install and repair any water heater.
We provide our employees with the most modern equipment available on the market and we can get the necessary spare parts for your water heater at a discount price. If you want to have your water heater repaired or installed at a very affordable price, then our company should be your choice.
Check also our Plumbering services.