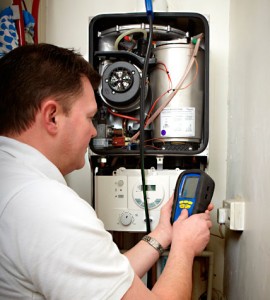 Installing a gas appliance isn't so difficult, but it must be done properly in order to ensure the safety of the people working with the appliance. If you have recently bought a gas appliance, then we advise you to contact our company and take advantage of our gas appliance installation service.
We are a renowned company which is well-known for the quality of all its services. The reason for our success is the team of dedicated and devoted workers which we have gathered. Each one of our employees has been professionally-trained and most of them have been working for our company for years.
We can install all kinds of gas appliances:
Grills
Gas logs
Wood fireplaces
Wood stoves
Gas stoves
Mantles
Natural vent fireplaces
Gas lights
Water heaters
The most common gas appliance we get called for is a gas stove. They are very popular in most households. Easy to use, fast, and efficient – gas stoves are the most wanted appliance. The process of installing and connecting one is not so complicated, however, gas work should be done with a lot of care and skills. It is best left to professionals. Not only the job will be quickly and professionally done but you may rest assured no leaks or malfunction will occur in the near future.
Here is how we connect a gas stove:
We ask you about the type of oven that you have and we bring a new gas stove connector that will fit your exact model.
We pull out the range and shut the gas off. It is important to completely close the valve so there is no leakage.
The pipe threads are wrapped in yellow gas tape that ensures no leaks occur. Sometimes we use a special paste to do that.
We attach the connector to the gas line. Sometimes we have to adjust the size so it fits perfectly.
We attach a street elbow and we seal it too. We usually use the insulating tape since it works better for this type of connection.
We tighten the nuts on both sides of the connector. It is important to properly tighten them for safety reasons.
We check for leaks
We connect your stove and set it in place.
We respect each one of our clients and we know how responsible our job is, so you can be sure that we've taken all necessary measures to prevent accidents. Our workers are instructed to work safely and do their best to meet the requirements of our customers. Installing a gas appliance is a responsible job and our workers know that, so they'll double-check everything in order to make sure that everything is working and there aren't any leaks or other problems.
The service is quite affordable and our employees are available seven days a week. Their working hours are very flexible as well, so they can easily visit you at a time and date convenient for you. Our company also offers regular gas appliance inspections, so you can take advantage of this service as well if you want to be absolutely sure that your home is completely safe and that there aren't any problems with your gas installation and gas appliances.
You may aslo be interested in our Electric services.