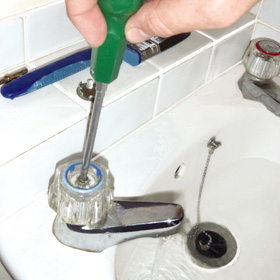 Taps have a different life expectancy and while most of them can last a few years, cheaper models can break down in a matter of months. If you notice that your tap is leaking, then you should contact a professional plumber to inspect the problem. Our company offers a qualitative and reliable tap replacement and repair service which is available for residents of the entire London area.
We offer a full range of plumbing services and tap replacement and repair is just one of the many plumbing services which we offer. All our services are carried out by trained, experienced and licensed plumbers who've been a part of our company for years.
There are different types of taps which have different characteristics – some are more expensive and durable, while others are cheaper and won't last for long. Each tap has different capabilities, depending on its design and purpose.
Our company works with all kinds of taps and we can easily repair and install the following types:
Pillar Taps – They are mounted on a basin or a bath and have separate taps for hot and cold water. They are widely spread in the UK
Mixer Taps – They comprise two pillar taps joined together, sharing one spout, The hot and cold water come together. You are able to achieve the perfect temperature mix.
Wall Mounted – They are fitted to the wall, protruding from it over the basin or bath. They are easier to clean but resolving plumbing issues is difficult and costly.
Monobloc Taps – They have a single spout with an adjustable lever. You can choose the temperature with a single shift of the lever.
Washer Taps – A pillar tap that operates with a twisting handle. The washer inside controls the amount of water.
Ball Types – Very easy to control but more prone to leaking.
Cartridge – A combination type that comes with a tap lever. To control the temperature you should move the lever to the left or right. In order to control the water flow, move the lever up or down.
These are just the most common types of tap with which we can work. If you have specific questions about a certain model, then feel free to get in touch with our support staff. They'll gladly answer your questions and provide you with detailed information about our company and the tap replacement and repair service. We guarantee that you won't be disappointed by our plumbing services!