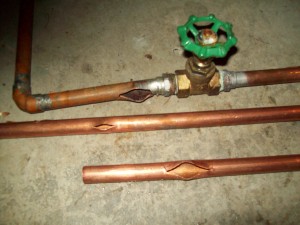 Even the most durable plumbing system may malfunction. One of the most common problems with plumbing systems is a leaking or burst pipe. This problem may be caused by many things, but one thing is for sure – it must be resolved as soon as possible. If you have a problem with a burst or leaking pipe, then you should get in touch with our company.
We offer a qualitative and affordable plumbing service which takes care of your leaking and burst pipes. We've been in the plumbing business for many years and our services have proven to be the most affordable and reliable choice in the London area.
Our company employs some of the most reliable and experienced plumbers in London. Each one of our workers has been professionally-trained and they are familiar even with the most modern plumbing systems. We provide them with the most modern equipment and we guarantee that they can resolve any problem in a professional and economical manner. Repairing leaking or burst pipes can be quite tricky, but this is an easy job for our devoted and experienced plumbers!
We offer planned and urgent pipe repairs, so you can count on us at any given moment. Our workers will bring the necessary spare parts in case they need to replace a part of the plumbing system or an entire pipe. We guarantee that we use the most modern materials and that plumbing systems maintained by us are fully functional and in top condition.
Leaking or burst pipes are the most common issue that householders experience. There are many factors that may cause this.
Here are the most common causes of leaky pipes:
Broken Seals – As your appliances age, the rubber sealant around the pipes may break. If you have noticed condensation on or around your appliances, you might have a broken seal.
Clogged Lines – Clogs may lead to overflowing or even burst pipes. This causes pressure to build up behind the blockage, potentially leading to structural damage.
Corrosion – Rust and other forms of corrosion can eat away at the popes and create an opening for water to escape through.
Incorrect Pipe Lining – Many of the leaks that lead to emergencies occur due to incorrect pipe lining.
Damaged Pipe Joints – Joints are one of the most vulnerable areas of a pipe. Extreme temperatures and excess water pressure may damage the joints of your pipes
Underground Movement – Tree roots, flooding and even small earthquakes can shift the placement of your pipes. They may twist, bend or even crack.
High Water Pressure – It may feel amazing in the shower but extreme water pressure can damage pipes and cause them to burst.
Intruding Tree Roots – Some roots might interfere with water lines, causing moisture to seep out into your yard.
Loose Water Connectors – Sometimes hoses and pipes that supply water to your appliances become loose. For example, your washing machine may spring a leak due to the shaking during the spin cycle.
Fixture Cracks – They typically occur due to physical contact.
If you are not sure what the issue is, do not worry. Give us a call and our experienced plumbers will come inspect your water lines. They will find the issue and quickly resolve it.
We offer the most affordable services in London and we guarantee that you won't be disappointed If you take advantage of our plumbing services. We've proven our reliability and professionalism numerous times and this has turned us into the favorite company of hundreds of London residents.