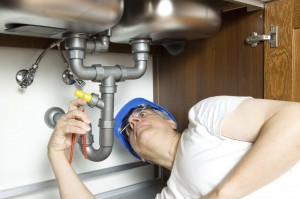 PTMaintenance provides professional plumbing service in North London. Contact us today to hire our plumbers. It is every homeowner's responsibility to regularly have his plumbing systems checked, cleaned and maintained. However, not every homeowner is familiar with all types of plumbing systems and can't do this job on his own.
In this case, the best solution is to book professional plumbing services like the ones offered by our company. We can take care of all kinds of plumbing systems and we guarantee that homes maintained by us won't suffer from any problems caused by the plumbing installations.
Our company has been in this business for many years and we offer a wide range of household maintenance services. Our plumbing services are the most popular in London, because of their convenience, competitive prices and reliability.
All plumbing jobs are carried out by a team of trained and qualified professional plumbers who have been working for our company for at least three years. Each one of them is vetted and fully insured, so you can
have peace of mind while they are working at your home.
Our plumbers can perform all kinds of plumbing jobs – from the simplest ones like unclogging toilets and sinks to complete drainage system inspection and maintenance. We can also repair, move and remove pipes, and even install geothermal systems. Don't hesitate to give us a call for a complete list of tasks which our plumbing team can perform.
Homeowners rarely know when something is wrong with their plumbing installations in North London. Usually, they find about such problems when their entire homes gets flooded or worse. Thanks to our professional plumbing services, you can have peace of mind by knowing that the plumbing in your home is in perfect condition and works flawlessly.
We assure you that it is much cheaper to book our services once a year than to pay for the complete refurbishment of your plumbing installations in case any of them malfunction.
Our plumbing team in North London is one of the most experienced in London and each one of its members is a licensed plumber. We provide them with the necessary tools, equipment and materials, so in case they need to perform any repairs, you won't have to supply them with any additional materials. Some of the general plumbing jobs which we can perform are:
Cleaning drainage and plumbing installations
Inspecting plumbing installations
Emergency plumbing services
Professional plumbing solutions for residential and commercial clients
Professional inspection and maintenance of gas plumbing installations
Repairing boilers, heat pumps, tankless heaters and sump pumps